What is it going to take for the striking workers at IOCL to get their just dues? Is it even fathomable that one individual, one service provider, could hold the entire Trinmar Operations and by extension the country at ransom?
The official strike seems set to run the full ninety days as the more than two hundred and fifty workers remain on the picket lines. These numbers may have even increased as it is my understanding that the trucking contract between Trinmar and IOCL is no more.
Our production continues its slow decline. We are currently losing anywhere between 2500 and 3000 barrel
s per day. It is only due to the committed workforce of Trinmar that it has not fallen further. So much is being lost, being hampered. Productivity is at its lowest.
The limited vessels available for marine transportation cannot satisfy the requirement. Workers are being handpicked on mornings to board these vessels as the company (Petrotrin/Trinmar) continues its hands off approach to this matter.
A trip to our offshore locations which normally takes between 45 minutes to an hour, now takes closer to three hours, sometimes four. Then, when we arrive, transportation to conduct our field checks and services is not available Most of our productive time is therefore being lost in transit.
The rest of the workers unable to secure a place on these vessels have no choice but to stay at the base. Though they are getting paid, the frustration of twiddling their thumbs all day is not something they are used to. We are after all a productive group. Other contract workers also, who journey everyday from their various companies to provide services, most times have to head back home. So much productivity is being lost daily.
On my location alone, our latest purchase of a gas compressor aimed at increasing and maintaining our compression capacity lies rusting away. TOSL, the company given the contract to provide, set up and commission this unit, has been halted in its efforts - all due to a lack of marine transportation. The unit which was earmarked to come on stream mid-October sits as it has been for months - idle and useless.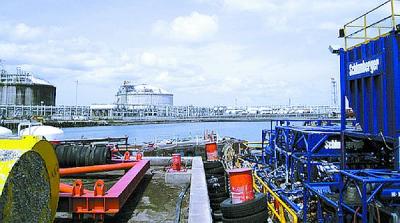 We are running skeleton crews. We are performing only our most basic of routines and one cannot help but wonder: for how much longer?
How much longer before a major piece of equipment fails? How much longer before we have a major disaster and, god forbid, lives are lost or oil ends up in the sea once again; negatively affecting not only our people, our production, but also our environment. How then would we respond? Which boats are we going to use to contain and clean up any such spill? I daresay, we are playing Russian Roulette on a daily basis.
The facts are there, the evidence is there. The documents show that these contractors were paid. The MOU stated clearly that the company (Petrotrin/Trinmar) would ensure that the contractors paid their employees their retroactive payments. Yet four years and many meetings and protests later, workers remain frustrated. Being told that their retroactive payments were used to purchase engines for boats, completely new boats; and in the case of one contractor, hound dogs and vans complete with cages for hunting.
The struggle continues even as our revenues continue to decline, as our valuable foreign exchange which we should be earning continues to decline; at a time of announced austerity measures and increased taxation which have driven up the cost of living of every citizen in this land. The net loss of earnings by the company, and by extension the government, must be accounted for. These monies which could be used to better run our country are being negatively affected simply because those in authority lack the testicular fortitude to stand up and enforce the law against these Employers.
Every citizen of this twin island state should take note, should be concerned. For this government has already indicated its intent to make up for their losses by putting the burden squarely on the backs of the citizenry; increasing taxes and duties while removing subsidies and cutting back on its social wage package. Healthcare and medicines are less and less available at our nation's hospitals.
All while Petrotrin hides below a rock. Contractors register their companies under new names in order to dodge their responsibility, even while some of the owners continue enjoying themselves destroying our wild life and partying down the islands. Interestingly enough, one of the main attendees to these down the islands fetes is rumoured to be the same person charged with the responsibility of fighting for the workers' rights.