MY OLD FRIEND
 We got into Caracas before 9am local time. We were met at the airport by a driver sent to take us to the hotel where the delegates including heads of state were located and where we turned out to be staying. We drove from the airport at sea level up to Caracas at altitude. It is a drive I know and this enabled me to make my first very preliminary observation.  
I first visited Caracas many many years ago in 1971 spending my ninth birthday there. Back then, in the magic of childhood, I remember that first drive from the airport through the tunnels (that are still very much there) and seeing the cars. They struck me as being bigger, grander, as was everything in this bigger, grander country. In the clarity of adult judgment one may now disparagingly call them American "gas guzzlers". But like I said then it was magic and they made a lasting (even if idealized) impression as did everything in this shiny bright land.  
I had reason to pass through Caracas again years after. If I am correct it was in 1998 not long before Chavez came into power. I was in transit for a few hours and ended up taking the drive. It appeared to me that those very cars from my childhood were still on the road looking very run down, like the Caracas of childhood was in a state of decay. It was sad.  
So, on this trip I noticed the cars. The American gas guzzlers were to a large extent gone and there were these new "Japanese" shaped vehicles (like what we have here) looking a lot newer. Now don't get me wrong. The days I spent in Caracas did reveal the wear and tear of a difficult economic situation, but I do find this, my first observation of a certain freshness in the atmosphere, to be significant. It was good to be back in Caracas. My old friend 
WITH THANKS
It was on Thursday March 7th at around 8.30am that the possibility of my going to Caracas was raised. Twenty four hours later I was in Venezuelan airspace. I had precious little to do with this and my heart is full of gratitude.  
First of all I feel myself the unworthy representative of a network of activists who have experienced all manner of hardships; some, indeed, beaten and jailed, many over the years marginalized if not actively persecuted, some no longer with us in the body. It is such who kept the flame of socialism burning through dark times in this terrible place; for while I love my Motherland deeply and would gladly give my life for Her, here can indeed be a terrible and vile place.  
I am also grateful to the great Venezuelan or I ought to say Bolivarian people and their revolutionary
Then there are my co-delegates – David, Ancil and Ozzy – from whom I received tremendous support. And I want this and my depth of gratitude on the record. I also have to call Ted who for some odd reason believed in me and had me put in this position. With him, I salute my comrades of the Trinidad and Tobago Bolivarian Solidarity Movement whom I was officially representing. And last but definitely – definitely – not least, Priya, who practically singlehandedly made this trip possible.  
I offer this not only in gratitude but out of responsibility even obligation. You may notice that this is not a conventional report. Neither do I desire it to be a propaganda piece (don't get me wrong I am a huge supporter of propaganda). I am seeking to offer an analytical engagement the completion of which will really require the inputs of those far more knowledgeable and capable than myself. I am therefore hoping to get the discussion, debate, even argument going.     
THE CEREMONY
The hotel was the place to be. To my shock I saw Evo Morales walking out the lobby. I thought at the time I may have glimpsed the President of Iran (whom the people really seem to love); he was later sighted by our delegation. And later during lunch Correa the President of Ecuador was in the dining area.  
For me the ceremony was a bit of a disappointment. This was not because we witnessed it on screen in an auditorium. However, I would have preferred to be lost in a two million mass of people in what would have been a more expected funeral ceremony. However, I am in no way disrespecting the Venezuelan government. I am sure they have good reasons for going about it the way they did. Not only did they wish to honour Chavez before the world. But they had to make a clear unambiguous statement concerning the continental and global reach, power and ongoing vitality of the Bolivarian Revolution. Imperialists take note!  
The event itself was very well organized and let me say that throughout my stay both in my direct participation and seeing it unfold on television I saw no crack in organizational efficiency and capacity: a good sign for the electoral battle ahead and the trying years to come. The ceremony was a marvellous display of military ritual (including one with the sword) and Venezuela's music. As regards the latter it drew both on the more traditional sounds and the more formal orchestra (including harps) where Venezuela is a world leader.  
Then there was Nicolas Maduro. He gave a very impassioned speech. He may not have the charisma of Chavez but he definitely has his passion; this, along with the genteel humility and strength of a Morales. Moreover as a leader he comes over as quite capable. Time will tell. Also arresting for me were the chants that would periodically emerge from some sections of the audience that included Venezuelans and members of different country delegations. Here the most striking were perhaps the Indigenous Bolivians, with their distinct outfits and black hats and they carried their musical instruments!  
RE-IGNITION
Leaving the ceremony and seeing his picture I come to the realization, and it strikes me as strange, that Chavez is no longer a man but a historical figure; thus bringing an entirely new hermeneutical dynamic into play. Now that he is no longer in the flesh, as it were, he may be (and I daresay legitimately) turned into a god and we may speak of a real "cult of personality". Political flyers still seen around Caracas showing Chavez as a mere politician now appear crass and out of place. Even the PSUV political mobilization is referring to him as "eternal".   
On the other hand we can have a situation where Chavez can now be claimed by the "right". Remember in the last campaign they attempted to convey that they would continue the Chavistic social programmes without the socialism. Their next logical step would be to, as it were, attempt to appropriate Chavez himself. But I think this Chavistic hermeneutics (understanding) goes way beyond such immediate political concerns. As I was there in Caracas I could not help but feel that I was in the middle of the swirling maelstrom of a pivotal historical moment. This may be termed the manifesting of the Bolivarian re-ignition.  
Now let it be clear that I am not talking about the re-ignition of the Bolivarian Process for this there is no need as it was never extinguished. What I am speaking of is the Bolivarian re-ignition of global socialism. This was indeed initiated by Chavez and in his death it promises to blossom. Now I find it interesting that in discussing this Process everyone seems concerned with what is going to happen to Venezuela. It is really too soon to tell but the signs are encouraging. As I said, the state organization appears strong, Maduro is coming over as quite impressive and the PSUV's (The United Socialist Party of Venezuela) electoral machinery is getting into gear under the banner of their eternal Comandante. 
I predict the opposition is going to get their biggest electoral cutarse (defeat) ever. Indeed, they need not turn up. But of course the real challenge will be what happens afterward. There is, however, no shortage of talent in Bolivarian Venezuela.  
But this Bolivarian Process is by no means only located within Venezuela. Rather we are here dealing with a fundamentally Pan-Latin American phenomenon, one – as revealed in the ceremony itself – that is indeed embracing the globe. So there is an entire pan-continental institutional framework that is economic, political and social. We may mention, ALBA, Telesur, Unasur. Moreover, there is a Latin American leadership clip that appears quite willing and able to step up to the plate. Here the most prominent is Morales but I also get the distinct impression that Correa is relishing the moment. It is indeed this Chavistic moment of socialist re-ignition in its continental and global dimensions that we have to engage. But first, the Great Bolivarian People.  
THE GREAT BOLIVARIAN PEOPLE
I really wanted to be close to this great people. Not so much to see his body, because for me Chavez lives, but to be in the presence of and to feel the energy of the people whom Chavez loved. And they love him in return. 
I spent a fair amount of time looking at the television. Here the camera remained on the lines passing by
the casket this was even shown in the corner of the screen when the focus was elsewhere. There were interviews that struck me as interesting even though my knowledge of Spanish is minimal. I remember one very striking bearded gentleman and his programme "In Defense of the Revolution" complete with pictures of socialist icons including a large one of Marx. Certainly leaves nothing to the imagination. I wish I could have understood what he was saying.  
Of course what I saw featured Chavez himself. A lot set to music. Here one is not only struck by his charisma but perhaps what may have been one of its secrets. Looking at Chavez being with his people, speaking, singing, apparently reciting poetry, one cannot help but think that here at the end of the day is simply a good and decent human being. There was music at the site itself. A lot of it profoundly related to what we call parang: a cultural nexus to which I can relate; the people singing and playing for Chavez. 
It is on the people I wish to focus. Seeing them file past his body in two lines making the sign of the cross, putting hand to chest, making the clenched fist and saluting; some coming with their children. So I find myself there. Entering, I am handed a juice drink. Socialism indeed! It was in the large compound of the military academy: afternoon sun and less than comfortable. But the people are there night and day. Non-stop. 
One may say accidentally I find myself in the line. The experience of being in that crowd was close to overwhelming: to hear, not formal activists, but ordinary people chanting their freedom as socialist vision for the whole of Latin America. As the people were filing in I noticed that someone in uniform was handing out something. As I got closer I realized it was copies of the Bolivarian constitution being given to everyone. I see a child no more than nine or ten holding and apparently reading it.  
I once heard Chavez compare this document to the sacred book of the Indigenous people. It was the people's own native sacred book. Here they may know their rights and responsibilities as citizens of the Fifth Republic. Maduro, similarly, when he was speaking was holding this book before the people.  
I also want to touch on the military presence here and at the ceremony the previous day.
In my country masses of the citizenry often regard police and army as basically psychos in uniform. But there was nothing of this here in Venezuela. Here instead were evidently decent disciplined very normal looking men and women many or most of them young. Indeed very much involved was what appeared to be a cadet corps of disciplined young women and men in striking neat finished attractive grey uniforms. When I say young it would not surprise me if some were teenagers.  
Now I was in the line with a Chavistic jersey but not one of the more recognizable ones. If memory serves I got it from the Venezuelans during the Summit of the Americas. It is a variation of the classic Chavez chant –
Uh ah la enmienda si va
. There is some other writing on the back relating to the rights to vote, for liberty, for the people to decide. To be honest I do not know exactly to what the jersey refers but there was a working class man perhaps in his forties in the line who recognized and related to what was on the jersey. I could not understand what he was saying. I replied simply "
bien
". But when we saw each other in the line a little later he gave me a thumbs up. Needless to say I now want to find out to what exactly this jersey refers, so I may learn something of this man's own struggle.  
A FAMILIAR SURPRISE
The next day, Sunday, I walk into Caracas and wind up travelling around the city on the Metro (subway). But before I go there and address the rather provocative second part of my title and perhaps enter the philosophical core of the discussion I must first relate an experience that was at first as surprising as it was familiar. I suppose it is an episode that fits into the picture we are painting. Or the tapestry we are stitching.  
Returning from my Saturday adventures and making my way to the south tower where my room was in this rather large hotel I looked down below and saw what appeared to be some manner of arcade with shops and people walking. Well that ought not to have surprised me as it occurred to me before that hotels of this kind are supposed to have shops. However upon making my way, there came the shock. These shops were just a small part of a full scale shopping mall. Seven levels: the full works with multiplex cinema and a food court to put to shame anything like it in Trinidad.  
So here I am in the middle of a damned mall! Even the clientele seemed oddly familiar, not only in appearance but also in cultural "vibes". It was like I had somehow found my way back to Trinidad - a bit surreal when one thinks about it. The surreality does not end there. My capacity to engage the culture properly was disrupted by a declaration of the government banning alcohol for the duration of the mourning period. So here I am flown to another country and the whole so and so city is dry! Can you imagine a government facing an imminent General Election pulling a stunt like that in T and T?  
I suppose this may also have framed my approach to the phenomena, making of me more of an observer than I would have been otherwise. I am after all an advocate of the hermeneutics of engagement. So I am in a mall and there is evident a profoundly similar middle class culture to what I know. But I hazard a guess as to a difference. What we term the Trinidadian middle class formed out of the fluidity of our Trinidadian space exploded in the "oil boom" commencing in the 1970s. Given the geography of our island space and the fluidity of our history this middle class as a presence has come to define our landscape in its totality. Not that everyone is at all middle class.  
I do not know the details of the formation of the Venezuelan middle class but I think I can pull some strands together. Venezuela, like a great deal of Latin America, is a radically stratified rigidly classist society. Such demarcation would have defined the development of its middle class and its expansion in what would have been a similar "oil bonanza" triggered by the very crisis in the Middle East in the 1970s. In terms of our West Indian experience some time ago it occurred to me that if Jamaica had oil its social structure would be more like Venezuela than Trinidad (but I digress).  
All this combined with the vigorous push of the Bolivarian Revolution, unlike Trinidad, gives this mall culture something of the character of a ghetto. But they have their mall right? Do what you like with the energy sector but don't interfere with our malls then blood will flow in the streets. So what the ass are they complaining about?  
And let me say that the food court seems to have most of the familiar conglomerate names: KFC, Subway, Wendy's etc. Besides these, there's a range of food that can keep a hardcore eater like myself occupied for a long time unlike our own pitiful fare. Trinidadian taste can be so philistine. But they have their mall right? And Coke and Pepsi is everywhere in Caracas. All this in a socialist supposedly anti-capitalist country!  
I must confess that I have problems with this middle class culture because of what I perceive to be a profound shallowness and banality. I try to judge social patterns not people but I look at so many of these young people in my own country and it appears when it comes to their head space that the lights are on but nobody is home. But it is not my purpose to demonize the middle class any more than it is to romanticize the working class. We are all human beings caught up in this vortex that some call "history". It is this I seek to analyze. 
THE PROBLEM IS CARACAS
On my last day I throw myself, if throw be the right word, into Caracas. I felt that I owed it, especially to the Bolivarian people who were in effect taking care of me, to spend my time productively. So I find myself on
the Metro moving around the Capital. This, I must confess, in my rather awkward style. I spent a fair amount of time walking in and around the city university. There I saw university students not all that different from our own. There was also in that area an attractive promenade in the city.  
I came upon what appeared to be a pro-Chavez chess club. Then there was a food fair with tents where someone was distributing socialist literature and others were holding flags. The food seemed strikingly Venezuelan and I attempted a purchase but to no avail. I end up at the Capitolio. I spent some time there in a rundown mall that I am sure had seen better days and walking around outside.  
I also want to mention a few people I saw, in my two days of wandering, dressed in white. These I recognized as new Santeria initiates who worship the Orisha. Striking to me was seeing the masses of people (even on a Sunday) in the subway itself. Here are the same Bolivarian people going about their mundane business in the daily struggle and strain to live and survive as human beings. And if this was how it was like on Sunday I can imagine rush hour during the week.  
I make a rather curious personal discovery. In Trinidad it is often the case that some do not think I look Trinidadian enough. I am fairly regularly asked where I am from. In Venezuela I look like nothing else but a Venezuelan, once I don't open my mouth too much. I never felt so anonymous in my life. It was for me a curious sensation. Although when I think about it for most human beings on the planet (and in Trinidad and Tobago) it is quite normal.  
So this brings us to the question of race and class. Venezuelans in Caracas look very familiar to me as a Trinidadian. They look white, black, Indigenous, "mix-up", some even appear (to Trini eyes) Indian. Based on my limited experience there, and apparently contrary to my experience of Venezuelans in Trinidad, most are darker in complexion than I am or so it seemed at the time. (It has now occurred to me that in Venezuela I myself may actually be darker). The mass of Chavez supporters are racially and colour wise diverse and mixed including African Venezuelans and there are the Indigenous but things get lighter as one moves up the class scale.  
Chavez himself was seen as dark and here is a rather important political subtext that would not be readily discussed on CNN. Of course all of this is no accident. Colour and class hierarchies though more subtle have been well entrenched in the structure of Spanish styled colonialism. Here the Spanish developed a system of racial oppression by assimilation with the European dominant. This of course fits in well with the present racist global capitalist order.   
When we examine the same phenomenon through the prism of class demarcation the divide is clear cut. Yet we still have to touch on the question of culture as in all these hierarchies and mixing and colliding there are pulsing ancestral cultural patterns Indigenous, European, African.  
Some time ago I declared Trinidad to be in essence a city state. This may indeed be the case. But at least in terms of raw population we are not a full blown Metropolis. So my experience of this is rather limited but so confronted here in this great city in the midst of these teeming masses a thought crystallizes – The problem is Caracas.  
There is a view floating around that the real contribution of Chavez is in his social programmes. His regime is clearly not anti-capitalist as there is a great deal of capitalism, including multinational conglomerates, in Venezuela. But what he has sought to do is re-distribute the oil wealth for the benefit of the poor. What Chavez has added is an overlay of this crazy socialist discourse but beneath it all his policies are in essence those of a benign social democrat. In essence: socialism in the non-threatening pro-capitalist Western European sense. And all we have to do is remove the radical socialist rhetoric keep the programmes, which even the Opposition can do, and everything will be alright. In other words Chavez is at core an (expletive deleted) liberal. The problem with this narrative is – ideology matters.  
The first thing that may be pointed out is that France and Scandinavia never had to fight off a US backed coup. Apparently it is alright for Europeans to enjoy their "social democracy" but it's another matter altogether when the n… (I'm sorry) the "non-whites" down South start getting ideas. What the imperialists really fear is not the term "socialism" but what it signifies – self-determination – the struggle of the people for complete liberation. It is this unrelenting struggle for total and complete liberation that Chavistic socialism represents and embodies.  
In what does such socialism consist? While it does draw on traditional radical socialist discourse Chavez very wisely articulated socialism in terms of inclusivity. It is open to all progressive insights in a "Process" of liberation: a process that is in reality still being worked out. As praxis, socialism is defined primarily not in negative terms as anti-capitalism (though the anti-capitalist ideology quite rightly remains) but positively as the building of a new community. This framed within a broad articulated ideological vision of the people's self-actualization – the Constitution of the Bolivarian Republic of Venezuela. Upon reflection this praxis is utterly new and revolutionary.  
But the question nevertheless persists: in what does this new community actually consist? Here is where the old socialist discourse very perceptive in its critique of global capitalism very often met with disaster in its praxis. It would be interesting here to discuss Cuba. It is indeed true that socialism must not be viewed as only Eurocentric as it has sought to root itself organically in Africa, Asia and the Americas. But it is in the intersection of circumstance and freedom termed "history" that the Bolivarian process decisively turns the corner. And so we confront the problem of Caracas.  
Caracas comes to symbolize and embody the contemporary Metropolis that is the product of the Industrial Revolution; indeed, the modern bureaucratic structure in its entirety - this strikingly new violent all-defining social configuration that Marx himself confronted in its early phase. Here I remember a remark made by Kenneth Galbraith that if the Bible were written after the Industrial Revolution heaven would not have been described as a city.  
In terms of the Bolivarian Process, Caracas is thus the problem at different levels. The Metropolis is the dominant social formation of that very disruptive social dis/order that global capitalism brings into being. In Venezuela it's presided over by the oligarchy. It is the natural framework for that middle class culture of opposition to the revolution that sustains the oppressive system. Although, in fairness, the middle class in spite of their conservatism are not to be identified with the oligarchy. It frames the field for that old socialist analysis which though it can be very insightful and helpful may nevertheless entangle the revolution in a dead-end.   
Finally, and perhaps most critically, it sustains social dislocation and oppression imposed on the working class masses themselves. Yet Caracas as problem is also possibility as it is here the world-to-come first decisively touches and confronts reality as it is. Future commentators in all likelihood will say that Caracas was the first battlefield in the Great Transition. 
But to what exactly are we transitioning? Here is the rub as we return to this key question of community. To be is to be community. Such community is no abstract ideological construction but must be felt and lived by the people in the radical texture of their reality; in the ontological marrow of their existence. Is the Metropolis to be abolished altogether? Is it to undergo some manner of transformation? I do not think anyone knows all or even most of the details. But we must commit to the Process. And most critically trust the people themselves to inscribe their own creative possibilities. 
FROM METROPOLIS TO ECOPOLIS
When the aircraft began to fly over Venezuela tears came to my eyes. Needless to say it would not be the only time over the course of my trip. I had this sense that below was the mighty Orinoco River that was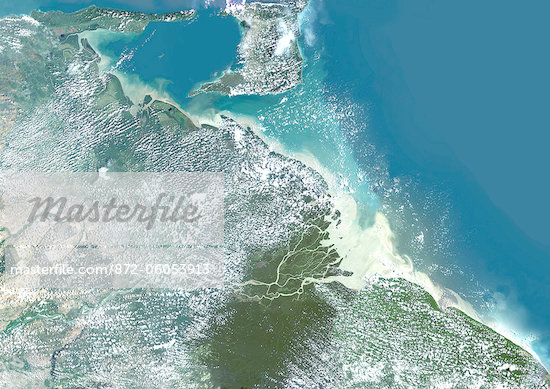 Mother to us all, whose flowing water and vital earth over millennia now constitute my very own body. In terms of the Bolivarian Process the keepers of such insight are understood to be the Indigenous. And their iconography is found on murals in Caracas itself.  
Let us remember that the Bolivarian Process is not only red it is also green. It speaks to an all-inclusive community drawing in all cultural traditions rooted in the earth herself; to the possibility of harmonious relation of peace and justice in that totality that is called "nature". This involves an ecocentricity that challenges Western humanism. I have termed such all-including organic community – Ecopolis.  
Chavez himself loudly professed Christianity – for some a rather unsocialist thing to do – and we have good reason to believe that his Catholicism was defined by the Latin American theology of liberation. Interestingly enough, it was Christian prayers that were thus said at his funeral. Christianity still appears to enjoy a certain status quo in Venezuelan society even as the Indigenous are embraced and popular spiritual currents rooted in this confluence of the Americas, Africa and Europe assert themselves. 
Now, in Trinidad, a great deal of energy is put into issues of cultural representation and to an extent this is legitimate, even necessary. But the problem with such discourses is that they assume a dominant hegemonic status quo where one seeks such representation and leaves us here entrapped. The Bolivarian Process is more concerned with the hard issues of justice and radical change. I rather suspect that here concerns for a decorative representation may appear a trivial distraction.  
What really struck me is the central presence of the military. I witnessed this as well some time ago when I saw on television their extremely impressive Independence Day parade. Clearly this is a profoundly martial culture. But this in itself is not necessarily a bad thing, especially when one is in a state of hostile relations with an imperialist superpower. Moreover all of our Caribbean and Latin American ancestral traditions have this warrior dimension that we ought to put to good use.  
However one may express legitimate concerns over this apparently fascist impulse in Latin American culture, and we in the Caribbean as well face similar issues in our own context, Fascism, let us also remember, is inherent to the power-structure of the modern Western nation state itself. 
The Bolivarian Process however, takes the bull by the horns as it seeks to channel the people's will-to-power in this its creative revolutionary Process. Here it confronts and inverts this power structure of the nation
state by locating at its centre the truly native sacred book of the masses i.e. the Bolivarian constitution. Here, for instance, are the words of a revolutionary anti-imperialist Venezuelan citizen about his constitution – "President Bush if you want to invade our country you will find a people who have a constitution in their hands and will shoot you with a constitution… you hear…" 
Here is a fundamentally native Latin American tradition that is, well, Bolivarian. I now run the risk of contradicting my earlier remarks that may be read as somehow playing down the enduring centrality of Venezuela. The Bolivarian Process is indeed inscribed in the very architecture of the "Fifth Republic" and it will continue to shine as a light. 
My reference to Caracas as a battlefield was hardly a metaphor. Let us not forget the blood of the thousands that were shed in the Caracazo of February 1989, the civic- military rebellion of February 1992 and the murderous American backed opposition coup of April 2002. I must confess that I did not appreciate at the time that I was walking streets soaked in the very substance of the people. The Process draws from this its glorious Capital and cities just as it does from the life force and power of the communities of its hinterland as it actualizes its deepest revolutionary possibility from the cultural architecture of the people. 
Here the constitution itself unfolds and is embodied not as an abstract theoretical letter but as a sustaining vital energy of the people themselves in the very social political patterning of their communal life and tradition. This is the ongoing Process of transformation: the Ecopolis, a truly inclusive community, a people born of the vitality of this earth that is our Mother – Pachamama. 
The great eternal Hugo Rafael Chavez Frias closed his eyes knowing the work will continue. Thus did he lay down with Bolivar's sword that will bring justice to the earth! Truly comrade, in the words of the song, we have come to love you from the height of history. Hasta Siempre Comandante! Chavez we are all! 
Come Dessalines!
Burton Sankeralli
March 17, 2013
government and I here include Ambassador Coromoto Godoy and the staff of the local embassy. I was well taken care of in their country.