"Something happened along the way...This is madness"
Slinger Francisco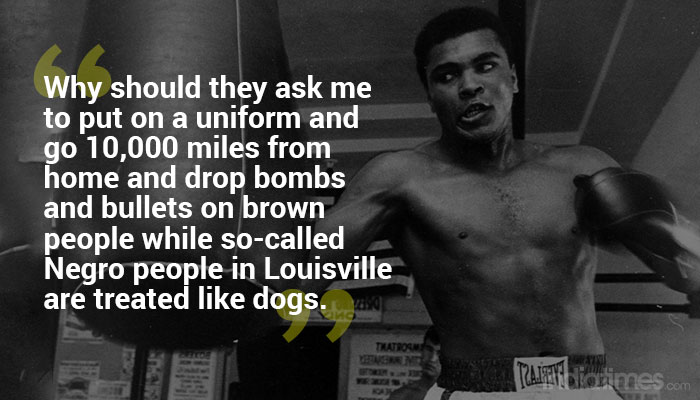 Bill Clinton eulogising Muhammad Ali...along with the King of Jordan and the Prime Minister of Turkey? Is this a funeral for the original Muhammad or a movie in the making? The Greatest being sent off by some of the flakiest? What did I miss pray tell? 
When I read and heard the BBC coverage I was reminded of Kwame Ture addressing a group of students in London and saying to them "You paid for me to come here. You'd better write down what I'm saying because you will be hearing it from the BBC." Shortly after Kwame was thrown out of England, and Canada, could not visit his country of birth, Trinidad and Tobago and most of the Caribbean (Jamaica a notable exception). They could never 'sanitise' Kwame.
 Ali came out a tradition of Negro/African-American/African resistance. Some of the best remembered activists who 'shook up the world' as he did included Jack Johnson, the swaggering first Black heavyweight champion, whose successes caused race riots. He was a playboy of fast cars, white 'wimmens' and pulverising fists. Jack was hounded out of his own country.
 Paul Robeson was living the American dream that few 'negroes' dared imagine. He was a Rhodes scholar; All American football player and a gifted artiste. But like Ali he opted for the poor and dispossessed, his race and workers all over the world; touring and raising funds for the working class all over the world. He declared for communism at the height of the McCarthy era which was the equivalent of today professing to a Muslim in much of America.
 "The time has come for America to hear the truth about this tragic war. I agree with Dante that the hottest places in Hell are reserved for those in a time of moral crisis maintain their neutrality''. This was the Apostle of peace, Dr. Martin Luther King, on the Vietnam war. He continues. "You may not know it my friend but it is estimated we spend $500,000 to kill each enemy soldier but $53 on each person here classified as poor." Dr. King who was no longer saying "I have a dream' was assassinated months after.
 So we need to remember who Ali was, that he came at a time the colonial world, not just the Africans in America, was moving towards independence and nationhood; that Ali was able to represent and achieve what he did because there was the anti-war movement, the Black Power movement in his home country. In the wider world there was the anti-apartheid movement, the African Liberation movements, the non-aligned movement, the Pan Arab movement and the Pan African movement led by revolutionaries like Muammar Gaddafi whom Ali respected thoroughly.
 So as those who once reviled him now seek to embrace him in order to sell shoes, socks, polos and tee shirts let us remember who he is/was, why Hilary...oops Bill...Clinton is speaking at his funeral in an election year...
 I still go with Ron Lyle's comment "He put it on the line brother. The representation he gave to the Black community will never be forgotten...no matter what''