Heritage and Paria will need to be licensed and their licences placed in a Petroleum Register that is meant to be maintained by the Minister of Energy, as per Petroleum Act (1969) and Regulations (1971). (
See specific clauses below)
.
The fact is that the Ministry has refused to maintain a proper register, preferring instead, in contravention of the law, to keep licence terms and conditions, start and end dates and even the names of licensees secret.
Any citizen should be able to walk into the Ministry and ask to view the register and to get copies of information therein. Chances are this will not happen without an intervention of the courts, requiring another citizen to waste his/her resources to force the government (executive and administrative) to respect the Rule of Law, which they feel the power they wield by virtue of office does not apply to them.
Furthermore, the law requires that each licensee must demonstrate financial and technical capability as a pre-condition for the granting of a licence. One would expect that the Ministry would do its due diligence and certify that these have been met and that the documents certifying these would be accessible under the Freedom of Information Act.
Governments come and governments go, yet the laws continue to be disregarded with impunity. We need to demand that our rights are observed, even if it means becoming a nation of citizen detectives and prosecutors. Thanks for getting us off the mark,
Afra Raymond
!
T&T PETROLEUM ACT & REGULATIONS RE: LICENCES & PETROLEUM REGISTER
Pet Act Art. 6 (1) Subject to this Act, no person shall engage in petroleum operations on land or in a submarine area, unless he first obtains a licence as provided for in this Act or the Regulations
Pet Act Art 29. (1) The President may make any such Regulations as he considers necessary or expedient for carrying out the purposes of this Act, and in particular—
(a) for determining the types of licences and the procedure for issuing those licences;
(c) for laying down the conditions to be observed by licensees;
(d) for regulating the assignment or transfer of licences;
(e) for licensing the transport, discharging and landing of petroleum and petroleum products by aircraft, vessels, other vehicles and pipelines;
(f) for regulating and licensing the construction and operation of warehouses and tanks for the storage of petroleum and petroleum products;
(m) for ensuring that a Register of all licences issued and any orders, judgments or awards relating thereto, is maintained in the appropriate Department or Departments;
(na) for regulating the conditions to be observed by contractors and agents of licensees;
Pet Regs. Art. 3. (1) Subject to sub regulation (2), the licences that may be issued to persons to engage in petroleum operations shall be—
(a) an Exploration Licence;
(b) an Exploration and Production (Public Petroleum Rights) Licence;
(c) an Exploration and Production (Private Petroleum Rights) Licence;
(d) a Refining Licence;

(e) a Liquefaction of Natural Gas Licence;
(f) a Pipeline Licence;

(g) Transportation (other than by pipeline) Licence;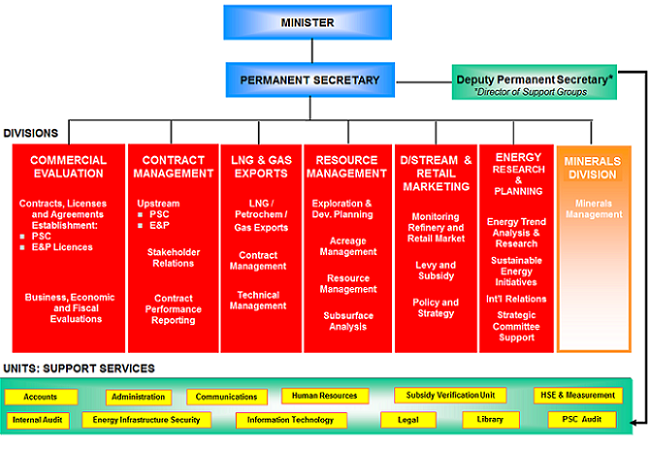 (h) a Marketing Licence, in respect of any one of the following operations, that is to say:
(i) wholesale;
(ii) peddling;
(iii) retail transactions at petrol filling stations; or
(iv) bunkering (including the supply of petroleum products to a marketing licensee's own ship or aircraft);
(i) a Petrochemical Licence;

(j ) a Compressed Natural Gas Licence in respect of any one of the following:
(i) service; (ii) marketing; or

(iii) consumer refuelling.
(2) A person who desires to operate as a contractor or agent of a licensee for the purpose of carrying out activities prescribed by Order made by the Minister directly connected with petroleum operations carried out by such licensee, shall himself obtain a licence for such purpose.
Pet Regs. Art 20. (1) The Minister shall cause a petroleum register to be instituted and maintained in the Ministry for the registration of all applications for, and the grant, assignment, renewal, surrender, termination and revocation of licences and other particulars relating thereto
(2) The petroleum register shall contain a record of any Court decisions, arbitration awards, Deeds or instruments of any kind relating to petroleum rights.
(Note that Exploration and Production Licences and Production Sharing Contracts, under which all E&P is conducted, are all Deeds and, as with all other deeds in T&T, should become public documents, once registered)
This is the poor excuse that the
Ministry of Energy and Energy Industries
currently bothers to offer us and then only after being pressured by a foreign entity (EITI) in an attempt to meet their standards: obviously more important than the legal rights of citizens)
http://www.energy.gov.tt/services/license-registers/