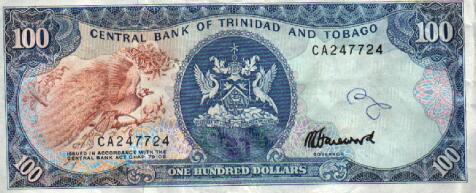 I'm old enough to remember the introduction of the "blue note", our much loved hundred dollar bill several decades ago. It is now to be retired, replaced by a newer (younger?), stronger, better looking version. I will miss it but that feeling will surely pass quickly as there will still be a "blue note" in circulation.
To listen to our leaders explain the reason for the change and its hurried implementation, one is left with the view that this has become a critical issue in our fight against corruption. They claim that it must be done in two short weeks to have maximum impact.
What utter nonsense!

In my writings I have highlighted several matters where corruption has been reliably identified yet no action is even discussed. Case in point - the judge in a CLICO matter saying there needs to be an investigation into overpayments of what is an unfathomable amount of public money. There has been no discussion or call to action as a result.
No, this is not an anti-corruption measure. And it didn't have to be rushed either. As usual we're left to guess at the real reason for this decision. I have to tell you that
this bears all the hallmarks of a decision that was forced on us by an external agency.
Both the haste and the remarks about combating corruption point in that direction. I can see international agencies needing the extra security features in the new notes in order to do their work.
Since I do not believe the reasons given you might be surprised to discover that I support the change, though not the haste. In fact, I advocate that we go even further. If any change were being contemplated to the notes that we use for exchange of value, then surely the introduction of a thousand dollar must be in the mix. I would have had that as of the highest priority even with respect to money laundering and corruption.
I would need an entire column to explore the many benefits that would accrue. Paying a bill of any size requires one to walk with a large number of "blue notes" in bulging envelopes on leaving the bank. We all experience it sometime or other, especially during the Christmas season.
I also know from studies elsewhere that despite the initial cost, the newer notes prove to be cost effective in the medium term due mainly to less need for regular replacements. This argument could easily have been put forward as the main reason for the move but it was mentioned almost as an afterthought.
Having introduced the new fifty dollar bill a few years ago, what has been the experience as regards cost and the other benefits that were promised? Do we not now have data about our own experience that guided and supported this new move? Or is this another instance of our decision makers pouring scorn on the need for data in support of decision making by our leaders?
I support the move but see no need for the haste based on the explanations thus far presented. I implore the authorities to gather and report on the performance of this note as well as the fifty-dollar bill over the next few years so that the next decision is supported by live metrics. Put the data gathering systems in place with as much urgency as was afforded this rapid change. And do consider a thousand-dollar bill as a priority.
If in any doubt, go to the banks and other financial institutions for the data. They can tell you how many citizens walk out with more than say, five thousand dollars in cash every week just to go about their normal, legitimate business like purchasing household appliances.
I see this as a good move but for the wrong reasons.
I believe that we've been strong armed into it.
Consider that arrangements for the printing of the new notes would have taken many months. The government and the Central Bank did not decide on this schedule last week just before their announcement.
Whatever or whoever forced them into this hurried retirement of my "blue note" will probably remain a mystery to us ordinary citizens.
Bring on the urgently needed thousand-dollar bill.
Finally, I do not share the concern about the possible impact on the economy as long as there are sufficient new notes in circulation and that the Central Bank is open to accept old notes for exchange for a period of at least six further months. That is standard practice internationally. There will be persons like foreign resident nationals who are unable to meet the two week deadline and must be accommodated.