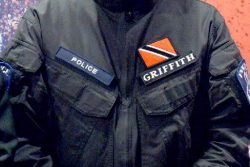 The establishment has placed a foreign trained military man as Commissioner and Chief of all Policemen (and we love it of course). He is an overnight hero (and 'agency brown' - quieting the racial anxiety of our bipolar tribal 'state'). He is our savior and serious about it ["If you doh fraid God fraid Gary"]. 
Some love it. Some say surgical extractions can be faked. Others say he wants to be PM and if he does, it would be his master piece - the softest of establishment 'coup d'états'. He is the truth and the 'way out' of the corruption morass our body politic has become.
He is beholden to both sides of the dishonored aisle, therefore untoward to neither. Hence Establishment preserved. No swamp to be cleared. But plenty bullet to fly! And the media will bawl "shoot dem Gary, shoot dem". And then so will we.
Our shameless state transfers public goods and wealth (space, land, assets, natural resources in all forms) into private hands as modus operandi. This is its purpose and status quo. Well-placed sources say well placed people run the show. The result? Wealth concentration and asymmetry of living conditions between rich and poor is not just obtuse, it is acute. Old money conglomerates and a handful of overnight billionaires supply pretty much all local demand for staples and daily consumption habits as well as get all the contracts "worth it" to them.
Politicians are millionaires. The revolving door between corporations and State Boards spins fast. Losers can be put to interim pasture at Lok Jack and pass off what they do there as tertiary education. Student aspirants can get some contact and, who knows, even a connection. It is who you know not what you know. Cuties are favored of course. And those that toe line. But time is longer than twine. So we need a hero. And we have one now.
A casualty of our system of predatory capitalism is our currency - the TT$ - it is like cholera. No one wants it. No one will buy it. No neighbor, not a Bajan, nor an EC$ man far less a $US man. There is nothing to buy. Everything is owned. In the formal economy, every time a stash of local cash appears it lines up to buy any US$ it can, - via the Central Bank. The big boys are always at the front of the line.
Billions upon billions appeared and disappeared on a one-way route overseas; all derived from fossils. (Remember the "Gas Rush"?) At its helm is a National Gas Company that only ever owned pipe; conduit of steel that appeared to buy and sell gas; except they bought from and sold to the same extractor on terms shrouded in secret long-term contracts. This was the great work of the "Energy Czars" - the knights of the commanding heights. All glory be theirs with national honours.
The economy is majorly owned by a tiny few. The dilemma in monetary terms is the only way forward is to devalue the dollar more; hoping if it becomes cheap enough, someone might want to buy one by investing. Investors of course will want - like all before - to take their earnings out - a sovereign guarantee for expatriation. They won't invest until they get that guarantee. They have it. They always had. Enter scandals. I mean Sandals.
Most money made here has left already. The fossils kept things going. We lived a life of imports. Conglomerates monopolize imports and local production of all essentials (except doubles). We are a nation of poorly paid workers at the end of our fossils era. Our non renewable resources were stripped and renewables captured. Natural asset generating wealth was always on a one way ticket out of here riding a green back - the proverbial "petro-dollar".
Today we are spent. The establishment around a "rotten head" is to blame. Whether it was corrupt or not is important, but is not the only question. The take away is that our "system" is wrong. It does not serve public interests FIRST! So we need a hero to hide that system; to keep it in place even while it buckles and cries for change. The media will handle that.
Sucking on beers, knocking back rum and pulling on a joint may make things appear normal enough. But they are not. For the poor it has always been guava season. Yet, the guava season coming in the New Year will be like no other.