News & Comment
The Union frequently comments on events or receives news of general interest and these are documented on this page.
Subscribe to posts
Petrotrin/T
rinmar has invested $Billion refurbishing the fields at South-West Soldado. Structures have been refurbished and new wells have been drilled and capped. To date we have seen absolutely no return on this investment. 
The reason, we have been told, was that the existing flow lines needed changing out for which a contract was subsequently reported as having being signed.

In the interim, a Mobile Offshore Production Facility was being constructed into which we would flow our wells. This was expected to increase our production by some 6000 barrels of oil per day.

Now that the facility is between 80 and 90% complete we are being told that the idea has been scrapped. This has given rise to litigation being considered by those contracted to build and supply the facility.

More importantly, one must question the actions of those in charge with respect to their unstated agenda.

It was widely rumoured that Well Services was chosen by the previous regime to be given South-West Soldado to operate under a lease operatorship agreement. The players often change in this country but the game remains the same.

Are there plans to once again lease out this field? Or is it that the plan has never been changed?

Within the existing operation, already plagued with aged infrastructure, we have a pipeline which carried gas to Point Lisas being deemed un-usable. Cost of repairs to which has been estimated at $200M. The company has therefore decided to cease gas sales: A direct loss to our revenue stream.

Not having settled negotiations for at least two terms, it is fair to say that when these settlements are reached, we will well be on the road to becoming unsustainable and indeed a burden on the treasury. Strong leadership is needed at this time and by people who have our interests at heart - the real stakeholders being us the workers. Be warned and be prepared or else we will all stand the consequences of our in-actions.
The Industrial Court of Trinidad and Tobago is a Superior Court of record, which gives it a status equivalent to that of the High Court of Justice. It is also a specialized Court with its own peculiar jurisdiction and is responsible for the dispensation of Social Justice. The Principal role of the Court is to settle unresolved disputes and other matters which arise between Employer and Trade Union. 
The mission statement of the court which clearly outlines its role is stated as follows:
"We are an effective Court upholding the principles and practices of good Industrial Relations as pillars of Industrial Peace, Economic and Social Development".
However, in the Newsday Business Day dated May 12, 2016, the Business Sector claimed that decisions of the Industrial Court lacked equity and as a result called for sweeping changes to the structure of the Industrial Court.
In their discourse they portrayed the Industrial Court as an obstacle to their ability to run their businesses profitably and maintain the necessary discipline. They further claimed that judgements coming out of the Court favoured the worker at the expense of the employer and the survival of the business as a going and profitable enterprise.
But is the claim by the Business Sector justified? Let's look at the facts!
The Structure of the Industrial Court is so designed to promote flexibility and open dialogue rather than protect entrenched interests. Additionally, in accordance with Section 10.3 a, b of the IRA the Court has a moral foundation from which to operate.

"Section 10 (3) Notwithstanding anything in this Act or in any other rule of law to the contrary, the Court in the exercise of its powers shall-

(a) make such order or award in relation to a dispute before it as it considers fair and just, having regard to the interests of the persons immediately concerned and the community as a whole;

(b) act in accordance with equity, good conscience and the substantial merits of the case before it, having regard to the principles and practices of good industrial relations."
Further, a look at judgements of the Court would indicate that they are quality judgements which display fairness and justice.
The Legislation which gave life to the Industrial Court can be described as one of the greatest piece of legislation for the protection of the ordinary worker despite its limitations and challenges.
The Employers are complaining now, but are those who are making these statements actually involved in the Industrial Relations process, especially at the level of the Industrial Court or are they familiar with the contents of said judgements they are now criticizing?
Advocates at the Court will reveal that in most cases employers do not co-operate with the processes at the Industrial Court and they treat attempts to administrate matters with scant courtesy. Would they dare to do this at the High Court, where judgements could be given on the basis of your refusal to participate in proceedings?
The Industrial Court is the manager of the Industrial Relations process and environment and as such they should be given all the tools, resources and support in the provision of fairness, equity and justice, whenever oppression stifles the use of flexibility.
These are the same employers who often talk about productivity whilst workers are not being treated fairly and justly at the work place.
The Court's role is to treat with the imbalance of power between capital and Labour and its judgements clearly displays its transparency in the administering of justice, with judgments clearly defined and taking into account all the facts on a matter presented before it.
The members of the Business Sector should therefore look at themselves before making unfair and unjustified criticism of the Industrial Court. The conduct of Industrial Relations practices at the work place is far from being fair and just. In fact, in almost every matter that goes before the Industrial Court the conduct of the employer is described as being harsh and oppressive.
So instead of making veiled attacks on the Industrial Court, the Business Sector should focus on its role as a Social Partner and commit itself to the building of meaningful Labour/ Management Relationships as this has a direct impact on Profitability, Productivity, Job Security and improvement in the Quality of Life of Working Class Citizens.
Additionally, instead of blaming the Court, it is time that the Business Sector meaningfully engage the Trade Union Movement and begin the conversation to make the playing field level in the best interest of all parties.
Failure, to so do would result in the continuation of the class struggle between those who possess but do not produce (Capitalist Class) and those who produce but do not possess (Working Class).
The United States mobilized its pawn, Luis Almagro, the Secretary General of the OAS, to attack the Bolivarian Republic of Venezuela. Before the "soft coup" in Brazil, this disgusting character was ordered to keep his mouth shut.

Luis Almagro called for the implementation of the Democratic Charter against Venezuela. Nicolas Maduro accused the secretary of the OAS of working in the service of the CIA. He added that with that decision, Almagro was looking for ways to open the doors to a US intervention in Venezuela.

The former Uruguayan foreign minister made a presentation in which he said that "the institutional crisis in Venezuela demand immediate changes in the actions of the executive branch at the risk of falling immediately into a situation of illegitimacy".

Almagro submitted a 132-page report referring to Article 20 of the Charter to "request the convening of a Permanent Council of the Member States between June 10 and 20, 2016," in which he planned to address "the alteration of constitutional order and how it seriously impairs the democratic order of the country."

Recently, it produced a hard exchange of words between the Secretary General of the OAS and the president of Venezuela, Nicolas Maduro. In a public letter, Almagro accused Maduro of "denying the consultation to the people" in reference to the recall referendum and he said to the Venezuelan president: "that makes of you a dictator …" Venezuela considers that the secretary general of the international organization is making fraudulent use of Article 20 to apply the Democratic Charter because the same applies for those Member States of the OAS when it has altered their constitutional order, ie, that impairs the democratic order to protect systems of coup d`etats.

The right-wing in Venezuela, within the National Assembly, has been promoting, creating and staging episodes of destabilization and coups. It is clear; it has taken pains to accelerate episodes of market shortages, social violence and psychological warfare throughout the country. This produces the conditions that Almagro needed to compose his alleged complaint using the Democratic Charter as a justification for calling an intervention against Venezuela".

It is evident how it has built the stage, and gone about creating the requisite scenery and choreography in Venezuela so that with the help of media inside and outside the country, Venezuela is converted into a chaos, there is a humanitarian crisis, there is repression, and with that argument justifies invoking the Democratic Charter.

In Mexico there are thousands missing and dead due to the control that drug trafficking has over much of the state apparatus. In Central America there are dozens of dead journalists and political assassinations, in Brazil there was a parliamentary coup, but the secretary of the OAS could not think of asking for the application of the Democratic Charter in any of those cases.

People's governments of Argentina and Brazil have already been beaten. The Empire moved another piece on the board. Before Obama leaves the White House, he wants to give the final blow to Venezuela and say, "Checkmate".

After the permanent session in the OAS, the 34 member countries of the organization expressed their support for the process of dialogue between the government and the opposition. Venezuela achieved thus an important victory in the OAS to convene the Permanent Council statement in support of the dialogue, the Constitution and peace and it thanked the countries of the region for their support for the rule of law in Venezuela, "full sovereignty and constitutional democracy".
"Something happened along the way...This is madness"
Slinger Francisco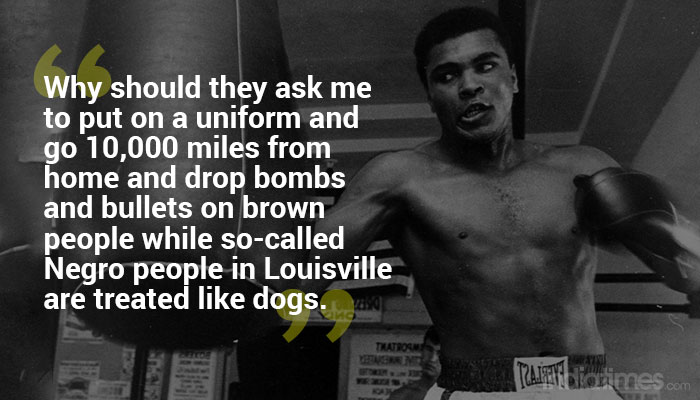 Bill Clinton eulogising Muhammad Ali...along with the King of Jordan and the Prime Minister of Turkey? Is this a funeral for the original Muhammad or a movie in the making? The Greatest being sent off by some of the flakiest? What did I miss pray tell? 
When I read and heard the BBC coverage I was reminded of Kwame Ture addressing a group of students in London and saying to them "You paid for me to come here. You'd better write down what I'm saying because you will be hearing it from the BBC." Shortly after Kwame was thrown out of England, and Canada, could not visit his country of birth, Trinidad and Tobago and most of the Caribbean (Jamaica a notable exception). They could never 'sanitise' Kwame.
 Ali came out a tradition of Negro/African-American/African resistance. Some of the best remembered activists who 'shook up the world' as he did included Jack Johnson, the swaggering first Black heavyweight champion, whose successes caused race riots. He was a playboy of fast cars, white 'wimmens' and pulverising fists. Jack was hounded out of his own country.
 Paul Robeson was living the American dream that few 'negroes' dared imagine. He was a Rhodes scholar; All American football player and a gifted artiste. But like Ali he opted for the poor and dispossessed, his race and workers all over the world; touring and raising funds for the working class all over the world. He declared for communism at the height of the McCarthy era which was the equivalent of today professing to a Muslim in much of America.
 "The time has come for America to hear the truth about this tragic war. I agree with Dante that the hottest places in Hell are reserved for those in a time of moral crisis maintain their neutrality''. This was the Apostle of peace, Dr. Martin Luther King, on the Vietnam war. He continues. "You may not know it my friend but it is estimated we spend $500,000 to kill each enemy soldier but $53 on each person here classified as poor." Dr. King who was no longer saying "I have a dream' was assassinated months after.
 So we need to remember who Ali was, that he came at a time the colonial world, not just the Africans in America, was moving towards independence and nationhood; that Ali was able to represent and achieve what he did because there was the anti-war movement, the Black Power movement in his home country. In the wider world there was the anti-apartheid movement, the African Liberation movements, the non-aligned movement, the Pan Arab movement and the Pan African movement led by revolutionaries like Muammar Gaddafi whom Ali respected thoroughly.
 So as those who once reviled him now seek to embrace him in order to sell shoes, socks, polos and tee shirts let us remember who he is/was, why Hilary...oops Bill...Clinton is speaking at his funeral in an election year...
 I still go with Ron Lyle's comment "He put it on the line brother. The representation he gave to the Black community will never be forgotten...no matter what''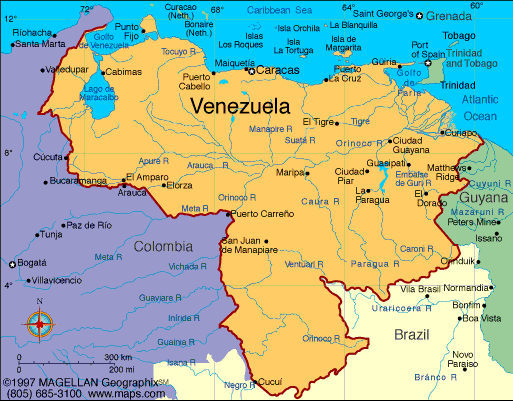 The right-wing coalition in Venezuela which now controls the National Assembly has bashed President Nicolas Maduro`s government over the head. They claim to defend democratic values but the language of their own leaders reveals that they have no plans to do so themselves, and their goal remains the same: ousting President Maduro from power.
From The Caracazo to the 2002 coup, much of the political violence in Venezuela is intimately linked to right-wing political actors. It is worth exploring the violence that factions of the right-wing have employed against the socialist revolution over the last two decades.
Their tactics to overthrow the revolutionary government has been the same, just to quote a few cases: they used a violent coup to overthrow President Hugo Chavez in 2002, leaving 19 dead. Later that same year and early 2003, they continued with a months-long oil lockout that cost Venezuela's oil industry US$ 13 billion.
Then they refused to participate in elections, as well as they refused to accept the results in 2004, 2005, 2006, 2009, 2013. Then they resorted to violence in 2013 to oppose the outcome of democratic elections, leaving 7 people dead. Then they sought to violently overthrow the government in 2014, leaving 43 people dead. As you can see the violence is always on the opposition's cards, especially when it has exhausted all other means.
After years of being the opposition and vocally criticizing the constitution, which was drafted by the socialist party under President Hugo Chavez and passed by a popular referendum, the MUD seems to have developed a new fondness for it, demanding the administration of President Nicolas Maduro respect it to the letter in order to push through the sweeping changes they have planned.
The right-wing National Assembly continues to attempt to weaken the Bolivarian revolution and its gains through legislating and the option of a recall referendum is open, it's possible that further violence may be kept at bay.
It is noteworthy the U.S. influence and its interest of overthrowing the constitutional government of Nicolas Maduro, through lies and slanders using its global media influence.
We have no doubt that the United States is pursuing its old imperial agenda of seeking to control strategic resources in Venezuela and, in particular, to control its oil. The US has not in the past been shy of using the strategies of destabilization and the promotion of military and other forms of intervention in pursuit of what it calls "US strategic or national interests". One such strategy is now called "regime change" and that is what they are trying to do in Venezuela in coaltion with its lackeys who now control the National Assembly.
Everybody knows that the issue is not "democracy" but oil and other geo-political interests. In the case of Venezuela it must be noted that following President Chavez's first winning office in 1999 in a landslide electoral victory, the geo-political map of Latin America changed dramatically with progressive parties winning elections and forming the governments in Brazil, Bolivia, Ecuador, Argentina, Chile, Uruguay, Nicaragua and El Salvador, while progressive changes in Paraguay and Honduras were set back by constitutional coup d'etats. A major reversal in Venezuela, therefore, can impact on the entire hemisphere.
We should defend the right of the people of Venezuela to be free of US imperialist bullying and US sponsored disruption. In particular we condemn the recent actions of the US against Venezuela and call for an immediate removal of all sanctions. Regime change is an unacceptable violation of the sovereignty of independent nations and must not be given any comfort.
There is one business in T&T and though it is not formalized, structured and operated as such. It would be most appropriately called Trinidad and Tobago Incorporated (T&T Inc). All other businesses and indeed most other activities - directly or indirectly - depend on the earnings and cash flow of T&T Inc.
These earnings are obtained from a range of petrochemical industries all of which "feed" off the oil and gas. Oil and Gas exists naturally in our twin islands and therefore are the birth right and patrimony of all sons and daughters of this place we call home. Needless to add, and contrary to the belief of Farrell and others on the Economic Development Advisory Board (EDAB), it belongs to each of us in equal proportions and so do all proceeds earned by the State from transacting these two primary products and/or their derivatives.
The position of those on the EDAB is argued for reasons that allow those in the public sector to secretly and corruptly transact our birth right and patrimony and/or the proceeds therefrom. This of course allows for the corruption in its myriad forms, incompetence, waste and oppression of the public to proliferate. These public sector officials, their appointees and their surrogates have to be disabused of these false notions if we are to salvage what is left of this country.
Most of the foreign currency that flows into and within the country comes from transactions involving our primary products of oil and gas and their derivatives. There are also other organisations in the country that earn foreign exchange, but most of these either do not return such earnings to T&T or keep it in US accounts locally for the use of the Banks and themselves exclusively.
We all therefore live off the "fat of the land" but this fat, although it belongs to each of us equally, is disproportionately accessed by a few who exist in "financial symbiosis" with those in the Cabinet. The transactions with these few are secretly done by way of several "processes" all of which are a corruption of what can be considered fair, just, equitable, right, patriotic and intelligent.
The control and distribution of our foreign exchange is solely in the hands of the politicians, their appointees/cronies and other public officials. They direct the flow coming into the country, the flow within the country and the outflow from the country; with no input from the rest of us who are co-owners of this foreign exchange. They do so through the Central Bank and in collusion with financial institutions which they select.
The oppression, collusion and control extends to the point of making it illegal for persons receiving foreign currency from family abroad to sell it to another member of their family living in the same house or to do any similar transaction privately. Such foreign currency has to be sold to an institution approved by the Central Bank which then resells it at a profit to members of the public and all of this is allowed in Law.
Politicians and other senior public officials literally function as "sole traders" or executives in Corporations. They run Ministries that are comparable in scale to the biggest local and even regional corporations and control budgets that are bigger than those of many countries in the Caribbean. They seldom if ever get fired, have no performance criteria, have no oversight to their activities, have no training or expertise in running organisations, account to no one, cannot be fired or disciplined, set their own hours of work, ignore the Freedom of Information Act with impunity and are virtually immune from prosecution for corrupt practices as the record of the Integrity Commission indicates.  
An economy such as ours functions very simply. It is about i) maximising earnings of foreign exchange from our petrochemical sector, ii) conserving this foreign exchange and iii) redirecting it to areas and organisations that can earn us more foreign exchange.
Our dilemma today is we are failing miserably in all of these three. These failures are compounded by the following i) the public is denied access to information relevant to these matters and others ii) the Press is too corrupt/cowed/compromised/incompetent to even attempt educating and informing the public on the reality so we can learn truth and act on it. iii) the sectors referenced are hopelessly managed by political appointees and public officials whose learning, standards and experience were acquired in public sector institutions and academia.
All we do know for sure is there is a massive drain on our patrimony of forex earnings and it is being argued by Terrence Farrell and others that we do not have a right to know the details as to how our forex gets transferred from our SERVANTS and TRUSTEES in the Central Bank and Cabinet to the foreign accounts of the nameless, faceless and privileged persons they select.
We are even being told that we the public are responsible for this massive transfer of forex to the overseas accounts of public officials and their cronies by our buying habits. To me this sounds very much like a drug dealer who creates addicts by his addictive and deadly offerings, telling his cultivated customer base of addicts that he wouldn't have to be a pusher earning the vast sums of money he does, if they stopped buying his stuff.
In that scenario, as in all dealings involving forex, there is a chain of selected persons who secretly benefit from the many transactions. The only difference is that in the forex trade these beneficiaries are not hunted down and prosecuted.
In closing I should relate the story of the birds around my home that every morning at daybreak sit on the electrical/telecommunication wires and whistle. Their whistling only end after the sun comes up and then they start to "ramajay" as though they have achieved something.
I am firmly convinced that they believe it is their whistling that causes the sun to rise. Based on our science they are of course wrong but their learning/experience supported by generations of observation, and probably the genetic inscription of the habit, is that their whistling causes the sunrise.
Our leadership in T&T also sit whistling, waiting for our sun to rise (our sun being the price of oil/gas), despite the fact that their learning/experience alone over the decades should have told them that their whistling does not cause our sun to rise. Even the birds would have long ago stopped whistling if their learning/experience regarding their sun was the same as that of our leadership over the decades with regard to oil/gas.
The birds by their learning/experience, which is based simply on observation, have ushered in and will continue so to do over eons of time many sunrises by just whistling. Many more sunrises than our leadership will with their whistling for the repeated rise in the price of oil/gas and the birds have no science/technology, MBAs, PhDs, etc. to assist.
There are a lot of conclusions one can draw from this apologue of sorts and most of them, if stated explicitly, would be quite offensive to our parliamentary representatives and public officials who for decades have done little else but whistle while living off the depleting fat of our land.
[I wrote this on the political blogs in response to an article written for Indian Arrival Day in Trinidad which headed "We (Indians) can only see ourselves as citizens when those on the other side see us as citizens."]
If Africans in the USA had waited for Europeans to "see them as equals" they would be still waiting. History shows everyone has to fight hard for their right to citizenship and equality. This fight is what helps our enemies accept the Golden Rule also applies to others.
Indians must see themselves as citizens IN FRONT and irrespective of how they may or may not be seen. Further, Indians should not be crying that others are not seeing them as citizens when the majority of "others" may well be indifferent. Imagine if that was the case Indians would still not be feeling like citizens waiting to be affirmed by an indifferent other.
Having said that, I feel we repeatedly trap ourselves in dated and largely irrelevant discussions. The main thing is that neither Indians nor Africans have been able to create a constitution and political structure that champions the will of the majority. We have colonial tools and we sow and reap in colonial fields designed to secure an elite presiding over an economy which exports wealth (all because we were full of oil and gas). Both parties made huge noises on behalf of their respective peoples to get a seat at the table of power, but once seated, they joined in and preserved the old structures.
Oil/gas is in its twilight; the State coffers are bare and State services are generally avoided by those who can afford to do so. Hard as I may try, I have yet to find an Indian who does not feel she is a citizen nor an Indian who genuinely thinks Africans do not consider them citizens, nor an African who does not think Indians are citizens.
At 55 this constitutes ole talk as they say when the elephant in the room is that we have failed to secure our collective best interest because we are trapped in a model of elitism, concentration, inequity and ultimately conflict.
We have yet to do the hard work that would yield a suitable model to govern ourselves. The proverbial "whiteman" structure still contains us and is at no risk of not doing so for another 55 years - long after oil and gas are gone.
These are things we know for sure but find no time to discuss. Our politicians are repulsed by the thought as it might interfere with the essential equation of PNM-UNC=0. Remember they "happy like pappy" because even in opposition (when they recover from stealing and regain their indignation that the other side is now stealing) they have status, are paid and speak for the "people".
It is laughable and the joke is on us. Imagine in 5 or 10 years a return of the UNC to power. And imagine the PNM go into waiting again. Good grief! Indian Arrival? Well what can I say? We all done reach, done know and done unwilling to do the hard work that builds fairness and equity into our own-most selves.
F
inally I have been watching a recurring image of a cricket game being played on our national pitch. The State is batting (wearing a red pan
ts and a yellow shirt, everyone else on the field is in white). The State prepares for the next ball and, like the ball before, after a fast run-up, it is a "dolly", bowled on the middle stump, slow straight and flighted, ideal for a six, and like the ball before, and after much adjusting, the batsman raises his bat above his head, arms straight, at the very last minute, and leaves the ball alone.
an
The ball hits the wicket. The keeper runs up to fix the bails and goes slowly back to his position. The fielders no longer celebrate the out but move lethargically. The umpire raises the finger but the batsman dressed in red and yellow does not walk. He takes his stance again and the bowler returns to his crease. The same happens again and again. When the camera pans out to the crowd there is revelry and abandonment, the music is loud and no longer ends to allow the bowler to bowl - it is a perpetual fete. White Oak and Johnny reign. It is a bright sunny day and a perfect day for cricket on the day after Arrival Day 2016.
Franklyn Harvey (b.1943; d. 2016) was one of the most dynamic political philosophers and radical
activists of the Caribbean New Left (1968-1983).  Whether in Canada, Trinidad, or his native Grenada, often in underground fashion, he shaped the foundations of events that history has already recorded as profoundly significant and inspirational.            
But history is not always recognized in a timely fashion by those who might subsequently find it life enhancing. Often deep contributions are mystified as part of a bygone era with supposed little relevance for where we have arrived. Harvey left his mark on history in a manner that was quite distinct, even among what we may recall of this previous epoch associated with Black Power and Third World national liberation. His body of work is still a dynamic contribution to contemporary breakthroughs. 
In 1966-1967, working with Jamaica's Robert A. Hill (later the literary executor of CLR James and Marcus Garvey), St. Vincent's Alfie Roberts, and Antigua's Tim Hector, Franklyn Harvey offered solidarity to C.L.R. James in Montreal following his ill-fated Workers' and Farmers' Party campaign of 1965-1966 in Trinidad. Studying with James, disparate topics such as Athenian democracy, the Russian Revolution, Marx's idea of popular control of the working day, Hegel's dialectic and existential philosophy, the Haitian Revolution and Caribbean History, Harvey was among those who began to shape his own original legacy at an early age.
Harvey took James's ideas about the socialist future, direct democracy and workers self-management, and amplified them with other activists to shape the Caribbean New Left. With the Caribbean Conference Committee and the Caribbean International Service Bureau (CISB), Harvey and others put on a series of conferences in Toronto and Montreal that elevated CLR James and the novelist George Lamming for a new generation, and projected Stokely Carmichael and Walter Rodney as among the most dynamic thinkers and writers of their generation.
It was Rodney's banning from Jamaica, after attending the Montreal Black Writers Conference in 1968, that set off the famous Rodney Riots, led by the working class and the unemployed against Jamaica's post-independence regime. In 1969, the famous "Computer Riot," at St George Williams University (later Concordia University), a response by Caribbean immigrant students to discrimination led by Kelvin Robinson and Kennedy Fredericks that set off the Black Power revolt in Trinidad in February-April 1970 - a rebellion that united students and the unemployed, led by Geddes Granger's and Dave Darbeau's National Joint Action Committee (NJAC), but also uneasily Afro-Trinidadians and Indo-Trinidadians, at first confronted Canadian influenced institutions in Trinidad. 
Soon it became a mass revolt against Eric Williams's post-colonial regime. Williams tried to get the military to repress the NJAC led movement, but was met by a mutiny led by Raffique Shah and Rex Lassalle. Franklyn Harvey was in Trinidad as a university professor, he was a civil engineer by profession, and was editing Moko, a publication around an activist-intellectual circle with James Millette and Gordon Roehler.                                      
Franklyn Harvey,
Darcus Howe
, Wally Look Lai, Raymond Watts, and Raffiqu
e Shah were among the informal grouping that attempted to link up the students, the unemployed, and the rebel soldiers and steer the revolt toward social revolution – they failed. There was no premeditated revolutionary cell trained by CLR James, as some historians have mistakenly suggested, but many had some idea that if state power could be overturned, James could be invited back to run the country.
Bukka Rennie, a Trinidadian among the 48 Caribbean students criminalized at the Computer Riot in Montreal, soon returned to help coordinate radical interventions during the state of emergency where many had been arrested or exiled. Rennie, who had been editing the Montreal Black community newspaper Uhuru, produced New Beginning, advocating a transitional program for social revolution that began the New Beginning Movement (NBM) (1971-1978).
Led by Harvey and Rennie, NBM was unique in that it projected historical and economic ideas based on direct democracy and workers self-management. It believed ordinary Trinidadians and Caribbean people should directly hold the reins of society. Eventually spawning chapters in New York City, Toronto, Washington, D.C., and London, some saw NBM as anarchist, as it opposed both the one party state and welfare state as the meaning of a socialist future. Yet they conceived of themselves as autonomist or Jamesian Marxists. But even this was not the whole truth of their audacity.   
Franklyn Harvey wrote
The Rise and Fall of Party Politics in Trinidad and Tobago
(1974) explaining that Eric Williams's and C.L.R. James's approach to building an anti-colonial mass party was a contradiction in terms. It led to the national bourgeoisie suppressing the self-directed liberating activities of the workers, farmers, and unemployed – an important lesson for those still projecting a mass party today for a second liberation from empire.
Harvey, with NBM, generalized James's analysis found in disparate places as applied to Classical Athens, the Hungarian Revolution of 1956, and Julius Nyerere's Ujamaa Tanzania, and projected a new form of post-colonial government. This would be a movement of workplace councils and popular assemblies.
When Harvey, a native of Grenada, was declared persona-non-grata and had to leave Trinidad, the political bureau of NBM in Trinidad decided that he should base himself in Grenada to assist Maurice and lead the ideological struggle with the Stalinist perspectives advocated by Bernard Coard and Trevor Munroe that was pushed through the OREL group and was becoming influential in elements of the New Jewel Movement.                                                                                                                                                 
Harvey was instrumental in injecting this idea of popular assemblies, in recent years found in "Occupy" and "Spring" movements across the globe, as the most original idea in the 1973 Manifesto of Maurice Bishop's New Jewel Movement (NJM). A forerunner of the NJM was the Movement of Assemblies of the People (MAP) – it was an idea that spread from Trinidad to Grenada by Harvey. Following the NJAC rebellion that initiated "People's Parliaments" Harvey and NBM pioneered the critique of the Westminster model of government in theory and deepened it in practice. Harvey thus as insurgent political philosopher, with his circle, projected the most explosive idea that sparked the Grenada Revolution (1979-1983).                                                                                                                                 
While the Grenada Revolution did initiate zonal councils and popular assemblies, these always functioned dependent to a one party state. There was not room for political dissent or independent initiative in these councils and assemblies. In recent years there has been much reassessment of the conflict between Maurice Bishop and Bernard Coard that led to the former's death, the latter's long imprisonment, and of course U.S. invasion. But there has been no penetrating re-assessment of the councils and assemblies in theory and practice.
Historical research suggests that Harvey actually predicted the internecine bloodletting, and was in the best position to challenge the 
morass that the Grenada Revolution declined into and was burdened before its collapse. Many wonder why a more dynamic intervention didn't happen. This is a subject for further research but also a sign of the reverence many had for Harvey's talent and originality.         
Harvey must also be remembered as a coordinator of an unsung movement for Caribbean federation from below.  That is unlike the failed West Indian Federation (1958-1961) and CARICOM today, this was a movement that was projected by the Caribbean Diaspora from disparate places like Montreal, Toronto, New York City, Washington D.C., London into the region independent of aspiring rulers above society. It was a movement for Caribbean Unity animated by working class perspectives that superseded capitalist politicians in the region who collaborated with empire.
Conferences in 1972 and 1973 were had to project and coordinate this federation. Consistent with this development, as editor of Caribbean Dialogue (1974-1979), Harvey fused NBM's approach to popular democracy with an anti-fascist national liberation approach in the 
wake of the subversion of Salvador Allende's Chile and Michael Manley's Jamaica. Caribbean Dialogue kept the Caribbean Left in Antigua, Jamaica, Trinidad, Guyana, Grenada and other countries like Martinique and Guadeloupe in conversation about the potential of insurgent developments.                                                     
At the contemporary moment we have many criticisms of what is termed "neoliberalism" that upon closer look are not for the abolition of capitalism but that believe under certain terms capitalist development, especially with more public infrastructure, can be measures of anti-racism, social equality and self-determination. In the 1970s, the Caribbean was marked by populist regimes increasingly moving toward nationalized property as a means to contain the spontaneous and self-managing struggles of working people. In response to the "Occupy" and "Spring" movements we see contempt for "anarchy" by professional planners above society, claiming to be socialist, who wish to advise transparent capitalist politicians.                                                                                            
Franklyn Harvey, as civil engineer, was at times a professional consultant, but he made his mark in radical history by coordinating and facilitating the empowerment of everyday people through promoting their direct self-government. He warned against the search for public and nationalized property without the promotion of workplace councils and popular assemblies – whether among oilfield workers, farmers, or bus drivers.
He warned against mediators who would lead rebellious people back to ordinary party politics. Harvey noted among the Caribbean working people there were go-slows, sick-outs, work-to-rule, sit-down strikes, sabotage of machinery and equipment, and burning of plantation fields – this suggested an instinct and elemental drive to govern. Many progressives take note of these self-directed liberating activities by the masses, after they happen – they don't teach the need for popular self-management -- only to lead them back to elite planning and elections for a new minority to rule. But Harvey was different:
"The struggle of the working class is no longer for capitalist crumbs but for the very destruction of capitalist social relations. New self-organized forms are emerging, but they are still infant forms which are being suppressed by the state, the labor management in the unions and other institutions of mediation. These forms are the reflection of our struggles in concrete reality."
In what are termed neoliberal times, it is difficult to imagine popular self-emancipation in workplaces particularly where there is such high unemployment. But in communities of African descent whether in imperial or peripheral nations there has always been high unemployment.  Franklyn Harvey conceived of the unemployed playing a central role in popular assemblies. Should capitalist cycles shift back to greater forms of public and nationalized property under state capitalism, and a living wage again seems plausible and more widespread, we will need outlooks that can explain this coming reconversion of capitalist society.
Most socialists having labored to make capitalism more efficient, ethical, authentic, and responsible in the name of making the U.S. or U.K.  great again or a second national liberation for the Global South, will not welcome the deeper content of mass struggles that reminds, be our payment high or low, there is necessary revolt against value production itself. Franklyn Harvey, given the radical life he led, foreshadowed this future. 
On August 5th, 1829, the Liberator,
Simon Bolivar
proclaimed.
"The United States appears to be
destined by Providence to plague America with misery in the name of freedom"
Bolivar pointed out in this way the expansionist, interventionist and warmongering policy that has characterized the USA since it gained its  independence from British colonialism in 1776.
Already at that time the "imperial eagle" was raised as main objective the conquest and domination of the entire American continent. It was precisely Simon Bolivar who exposed the annexationist claims of the United States, which fiercely opposed the independence of Cuba and Puerto Rico.
These actions were carried out under the development of American capitalism and its constitution as an imperialist power. The purposes of US administrations were and still are to militarily dominate the continent, to seize the natural resources of the region, to maintain control over the means of land, river and sea transportation  and set line policies related to their interests for which they would use oligarchic regimes.
 These regimes are constituted by the nascent Latin American bourgeoisie of large landowners, military and conservative sectors of the church, which were characterized as puppets of the imperial eagle as well as the brutal application of violence, in some cases, and surreptitious manipulation in others.
With the implementation of policies such as the Free Trade Area of the Americas (FTAA), the US is seeking to leverage hegemonic control and appropriate the surplus sources of primary activities in Latin America.
Through this agreement the US seeks to institutionalize the instruments of  control of  police  and military in the region; accentuate the pillaging of natural resources (minerals) on the continent, in a racist way regulate migration flows; extend the free flow of capital, but prevent the free labour market; destroy the incipient industrial production chain in the countries of the region, privatize oil, water and biodiversity; maintain control of scientific investment in the region, among others.
The actions undertaken by this country to ensure its hegemony in the global economic order, have meant perverse effects at the political, diplomatic, military, economic and cultural levels among the countries of Latin America. Since the proclamation of the Monroe Doctrine, the United States has had as a main objective to control the new independent Latin American markets and close them to English merchants and European interests.
The imposition of this neo-mercantilist imperialism led to explosive social conditions and the re-emergence of nationalist and socialist alternatives; and the anti-terrorist military doctrine of Washington, with its threats of violent interventions and its active and direct military presence has served as a useful ideological weapon to impose such imperial aims.
In recent years Latin America has remained resistant to the will of Washington and has obtained a series of victories the background of which so far has not been fully identified by the US.
First, it can be mentioned Latin American organizations such as the Union of South American Nations (UNASUR) and the Community of Latin American and Caribbean States (CELAC). Besides that, Latin America currently has all the necessary requirements to solve internal problems without outside help and without the US, causing its strong indignation. An independence of this nature does not fit into the overall plans of Washington, which has to manoeuvre and invent various scenarios for each country in an attempt to somehow keep relations with its neighbours.
The resistance of countries like Venezuela, Ecuador, Bolivia, and Brazil (despite the coup) to the capitalist imperialism that leads us to imagine an imperial structure with cracks that expose the weaknesses of the hegemony of the United States in the Global order  and ask ourselves  what will be  the actions of that country to maintain control within the capitalist system.
Many people talk about the "good ol' days". How far back you have to go to find these "good ol' days"
is, of course, a matter of conjecture. For the Employers Consultative Association (ECA), it seems the 1930's has caught their imagination.
The 1930's was a time of economic depression. Unemployment was high and wages were low. Best of all there were no trade unions.
Back to 2016: The government is apparently thinking about amending the Industrial Relations Act. Well, we shall see. But in the meantime it has invited what they called "stakeholders" (the interests of capital and labour to you and me!) to submit proposals on what they feel should be changed.
This is when the ECA grasped an opportunity to send us back to the 1930's. OK, it could have been worse...at least indentured labour had ended by then. They could have been tempted by the 1830's. From wage slavery to slavery! Maybe that's a bit too much even for the ECA.
So here it is.
The ECA's contribution to what they call "economic and social progress":
changing the definition of employer to "protect" small and micro enterprises "from the impracticality of what can sometimes be exacting standards, with respect to unfair dismissal claims and trade disputes". So no "good industrial relations practice" if you work for a small employer; 
no right to collective bargaining if your employer has less than 20 workers. It's "an abuse of process" they say; 
de-recognition of unions where the number of members falls below twenty (20). An "abuse of process and a waste of resources" they say; 
a worker/union found guilty of illegal industrial action to pay the employer for lost profits; 
employers should have the right to unfairly dismiss a worker unless they have been employed for less than a year. We can now anticipate probationary periods being extended from three months to 364 days; 
the introduction of "fees" to process matters. So they can dismiss you, take away your wages and then expect you to pay for processing a claim for unfair dismissal; 
limit the amount of compensation that could be paid. They quote Barbados which is limited to five weeks pay for workers with less than two (2) years service. 
So here you have it. The ECA wants to take away trade union rights if you work for a small employer; unfairly dismiss you if you have worked for less than a year; charge you for processing a matter and then limit the compensation you should get.
This is what they describe as "achieving balance, equity and quality for all citizens and the wider community".
So it's back to the "good ol' days" care of the ECA. Good for them. Definitely not good for us!