News & Comment
The Union frequently comments on events or receives news of general interest and these are documented on this page.
Subscribe to posts
Violence against women has become very much a major issue in the public domain and discourse. This is a very important development because our record as Caribbean men in this area has not been particularly good. And we do need to take stock and re-learn some key relationship patterns.

What bothers me however is that it is very easy for us, men and women, to believe that this is enough. To deal with the issue of "violence against women" alone and not engage the key underlying issue of power.

What makes men engage in such violence? Yes there is the raw brute force that so manifests itself because men are for the most part physically bigger and stronger. But this is the tip of the iceberg. The experience of such physical power is in reality articulated in terms of an overarching power relation where the male is defined as the source of power, violence, control and command. The fancy word for this is "patriarchy".

It is this question of power that needs to be addressed and we must be careful that this issue of violence against women is not cleverly used by certain elites as a distraction. So that certain men (all too often working class men) are readily demonized but the core issue of power remains hidden.

So violence against women becomes a safe middle class issue. And we can put it together with other safe middle class gender issues, like gender-based discrimination in the workplace and elsewhere or sexual harassment etc. Yes I would sincerely hope that all right thinking decent people would oppose all this (unfortunately I cannot make this assumption) but we are not going to effectively engage patriarchy by remaining in this comfort zone.

Moreover it is not in the middle tier that patriarchy really shows its teeth. To begin with we need a sharper understanding of what patriarchy is. And here I find the tools of analysis of "critical theory" to actually be quite helpful. This analytical approach would in my view correctly maintain that we must understand the oppressive power-relation in terms of the intersection of race, class and gender. Thus we avoid in the process any simplistic view of women versus men or a reductionist viewing of the workings of power.

There is oppressing and oppressive elite at the intersection of race, class and gender. When examined this elite, that in actuality presides over the capitalist system, possesses or tends to have a certain race/ethnic/colour/culture profile (I can say a great deal about this but I will stop here). They are principally men (though there are wives, daughters and other associates who belong, who benefit and who are complicit). And they are just that – an elite class; this in an essentially oppressive class structure.

This is the structure that characterizes the patriarchal system. And as I said the full weight does not fall on the middle tier. Actually in certain key middleclass areas – like education and employment – women may even be ahead of men. And while I want to make it clear that even here issues of violence and discrimination are to be taken seriously, it is the working class woman who remains most vulnerable across the board.

But as also ought to be clear the middle class success of women in terms of education and employment in absolutely no way diminishes the nature of patriarchal oppression. Men clearly preside over the elite tier and it is the oppressed lower class that bears the brunt. We have not begun to dismantle the system; if anything it is getting worse.

Moreover, working class men are also the victims of patriarchy in terms of poverty and criminalization and in being shot and incarcerated by the capitalist state apparatus. Indeed, a great deal of working class male violence against women is to be viewed in this light (though it in no way justifies such violence). And here such working class males may readily be caught and processed through the system. Of course elite men don't abuse women!

Having said this it is very often women who most profoundly experience the effects of systemic violence, of poverty, dislocation, privation and raw brute force. Moreso as it is they who are locked into the roles of family and caregiving.

Finally, I humbly suggest that if we follow this issue of violence against women honestly we would be led to the same place as if we follow all the other burning social and political issues to their logical conclusion. We would be forced to conclude that there is need for fundamental, radical, thorough and permanent change in the dominant power-relation.

There is a word for that!
The Transport and Industrial Workers Union (TIWU) is in the midst of a massive
mobilisation of the approximately 2,000 workers of state-owned National Maintenance Training and Security Company Limited (NMTS).
The aforementioned parties have been negotiating for the period 2011-2014 for Bargaining Units I, II and III.
According to a statement issued by the union: after months of negotiations, on September 20, 2016, the Union and the Company agreed to the wage offer by the Company of 10%, along with significant other cost items, notwithstanding the Union's view that the workers deserved much more.
At this meeting the Company requested of the Union to propose a date in which parties would sign off on the Collective Agreement. As such, the Union proposed the following dates:
1. Signing of the agreed Collective Agreements on September 29, 2016

2. Implementation of the new rate on October 14, 2016 but no later than October 28. 2016

3. Back pay payable on or before November 11, 2016.

The Company agreed to the preparation of the Collective Agreements, in the face of the fact that either party could have prepared same.
On September 29, 2016, the Union contacted the Company re: signing of the Collective Agreement, however by letter dated September 30. 2016, the Company indicated
"Further to our meeting held on 2016 September 20th in respect to the above, please be advised that we immediately advised our line Ministry of the Union's acceptance of the Company's wage proposals. We have been actively following up with them subsequent to their settlement down after having relocated office. We will keep the Union updated as information is received."
On October 04, 2016, the Union wrote the company seeking clarification on the Employers return to its principal, in light of the fact that the normal process after parties have agreed on all items either party would prepare the new agreement and parties would subsequently sign. In this regard, the Company agreed to the preparation of the new agreement.
On October 07, 2016, the Company indicated
"...given that the Union has made proposals for the institution of new rates on October 14, 2016 but no later than October 28, 2016 and payment of back pay on or before November 11th 2016 and that Company requires assistance with funding ... we await direction from our Principals before we can sign committing to timelines for payment... "

In light of this turn of events the Union demonstrated outside the NMTS compound on October 19, 2016. On the same day a delegation of the Union headed by President Roland Sutherland met with the Chief Executive Officer of NMTS, Lennox Rattansingh, and members of management. The Union was now advised that the Company was awaiting a directive from the Chief Personnel Office in regards to funding before signing off on agreed Collective Agreement.
On October 21, 2016, the Union and workers of NMTS demonstrated in front the Office of the Chief Personnel Officer. A delegation of the Central Executive headed by President Sutherland met with Mr. Gary Joseph, Deputy Personnel Officer, where the Union was advised that the Ministerial Committee chaired by the Minister of Finance, supported by the Chief Personnel Officer had not yet met. It was indicated that it's only when such a meeting takes place that a decision would be taken, signed off by the Ministry of Finance and a directive would be given to the Line Ministry then NMTS.
As such, by letter dated October 24, 2016, the Union requested of the Chief Personnel Officer that it be advised when the next committee meeting would be held and after said meeting how long would instructions reach NMTS. It was noted that this issue is causing significant unease among our members.
To date there has been no positive response from the Company or the Chief Personnel Officer's office in this regard. The frustration levels are building among the NMTS workers who are still working on 2010 salaries.
The union has decided to go to the worker and seek direction from them as to the path forward in their quest to access equity and justice as the economic and political elites move to force the workers to pay for the capitalist crisis they had no part in triggering.
On Tuesday March 21st, North-based workers will gather at the Union's headquarters in Laventille. On Wednesday March 22nd, East-based workers will gather at the Larry Gomes Stadium in Arima from 2:00 pm. On Thursday March 23rd, Central-based workers will gather at the Marabella North Secondary School from 2:00 pm. On Friday March 24th, South-based workers will gather at the NUGFW building on Mon Chagrin Street, San Fernando.
It is clear that the leadership of TIWU is not sitting and hoping that the assault on the living standards of working people will go away, but are actively engaging its members in fighting to secure their interests.
While  one could not accurately predict the target or who would be the perpetrator, another broadside has been fired at workers. This one came from Ms.
"We in charge now" Shamfa
. She was the golden girl on the platform in 2015 but her gold is now turned to silver the better to make bullets aimed at the working class.
So today, the Communication Workers Union, favourite foe of the People's National Movement, is once again the target. Its members in the Tourism Development Company face virtual summary dismissal. As the Union precisely points out, Ms. "Shaft-em' has violated every industrial relations procedure and norm in the way this has been carried out..There is no need to re-iterate since the issue is well detailed and documented on this and other websites.
A step back here: Can we in the labour movement honestly say we are surprised at these developments? From the time the new administration entered office it has been talking poor to workers and living rich.
Between late back pay and summary/virtual dismissal of the TDC workers, there has been a wage freeze at NGC, marginalisation of the Steel and OAS workers, frustration of MTS workers, a not yet averted crisis at Petrotrin, dismissals of media workers, outsourcing at T&TEC, NIDCO workers on the chopping block.
Of course the wolves in wolves' clothing, the employers' associations, the bankers' row, the media moguls (all arms of an interlocking economic and political directorate) maintain their frontal assaults whether it be individually at workplaces or launching broadsides at the Industrial Court which they imagine stands between then and consolidation of the victories since September 2015.
What we must be honest enough to say is that despite (or because) of all these imagined partnerships, political 'insider trading' continues to send workers careening down the slope of economic ruin. From Panday's imaginary Labour government right through to the lady incumbent who has come from the midsection of Labour, it is the same narrative. Rennie Dumas, Errol McLeod, Jennifer Baptiste, Rudy Indarsingh, Anthony Garcia, David Abdulah; all labour "leaders" who became their complete opposite in no time, collaborationists with the regime in power.
It is glaring that there is some need for labour unity. This will NOT occur within the JTUM construct. Fyzabad accords and Round Table discussions and Hyatt agreements have us where we are. This writer can certify that the JTUM was born exactly out of the circumstances that exist today; that it was a forum that effectively mobilised for resistance. It was political opportunism and rank vacillation on the part of the leaders that turned a forum into a 'labour federation' which today still awaits $15m from its class enemy for its "institutional strengthening and capacity building". I have yet to read where the predator strengthens and fortifies its prey.
IT IS TIME FOR WORKERS TO RE-UNITE IN ACTION! We must be brutally honest and recognise that many of those who are acclaimed as 'leaders of this and leaders of that'' have effectively sold us out and will remain a hindrance to unity in action. The solutions will not come from tri-partism or legislative reform initiated by Parliament. Let us not forget where the reforms to the Industrial Relations Act initiated by the People's Partnership government would have left us.
New ideas, new forms of struggle will not come from those who drive luxury SUV's or sit in Parliamentary chambers. Workers must find ways to get around these internal roadblocks if 'Shameless-fa' and others like her are to be dealt with.
Government has appointed a seven member committee to make recommendations on the "re-organisation" of Petrotrin. The make-up of the committee provides clues as to what to expect. There are two OWTU representatives on the committee; a human resource practitioner; an academic, a businessman; the former head of the local branch of one of the world's biggest transnational corporations and a senior public servant.
What is interesting about this whole affair is that the OWTU had already submitted its position on the "re-organisation" to the government and that the document has never been made public. Despite all the talk of "transparency and accountability", not even the workers at Petrotrin, members of the OWTU, know what have been recommended or who prepared the document.
Petrotrin does not belong to the ruling party but to the people of Trinidad and Tobago and is critical to the short term economic future of the country. The "restructuring" of Petrotrin is not a matter between the union and the government. It is the business of the people of T&T.
All proposals for the restructuring should be as widely debated as possible in keeping with the philosophy of mass participation by the people in the politics of the country, outside of election season. The union has a duty to publish, for all to access, the entire document that was submitted to the government.
The President General of the OWTU, while fulminating against suggestions to privatise the company, has hinted that the union has recommended that Petrotrin be broken up.
"...the company's mega structure be broken into different segments to ensure greater efficiency...Trinmar should be operated on its own. The land operations should be separate and the refinery operations separate for all to deliver on their fullest potential,"
said the trade unionist.
What is meant by separate is not clear. Does it man three "separate" companies should be set up? How does this ensure efficiency? If, the state enterprise governance model is flawed, as the union has argued for years, how is dividing the company into smaller segments going to address that problem.
Any reasonable person would deduce that that would be step number one in the implementation of a strategy of privatisation – a position long propagated by the economic and political elites and the IMF and opposed by the OWTU. Step number two would, of course, be for the State to swallow the losses that Petrotrin has been recently suffering, before putting it on the chopping block. Privateers are not going to acquire liabilities. They want a clean balance sheet. Let the citizens suffer the losses, while they cream off
the top!
The National Workers Union in a recently published statement said:
"It is a bit puzzling that the OWTU which has strongly and rightly condemned the staffing of management positions in state enterprises with party financiers and political hacks should propose a structure where the company is broken into segments to ensure greater efficiency. On the surface, and not having seen the entire document, this proposal seems to be cutting road for PNM 'gouti to run. It seems to be more jobs for the boys to feed at the trough."
Below the surface the cesspool of privatisation keeps bubbling.
It seems illogical to break up a small company like Petrotrin when it is operating in an industry dominated by the largest, vertically integrated transnational corporations in the world – companies like BP, Royal Dutch Shell, Exxon etc., not to mention the huge state-owned firms like Aramco, Petronas, Petrobras, Statoil etc. – except of course if the plan is to sell off the producing assets to financiers and friends and to get rid of the refinery, as some have recommended.
The committee includes former senator Helen Drayton, who, among other things, was Executive Director of
Human Resources for the RBTT financial group. Her appointment is significant in that when we hear a company is to be restructured we know that job losses will be involved. Petrotrin has close to five thousand workers. Who knows how many will survive the "restructuring"? 
Another significant appointment is that of Wilfred Espinet, Chairman of the Board of Trinidad Cement Ltd., who fought long and hard to make sure transnational Cemex swallowed up Trinidad Cement Ltd. Of course, the takeover was personally lucrative for him.
The most significant appointment of all is that of Robert Riley, former head of BPTT, a transnational corporation that has exploited T&T for years and that over the recent past has engaged in an exploration/production strike designed to force more and more concessions from the government.
The OWTU representatives are former General Secretary, now retired, of the union, David Abdulah and his then Assistant General Secretary, Gregory Marchan. If, as President General Roget has stated, the union's position is to break up Petrotrin, then Abdulah is expected to argue vociferously for the adoption of that position. He would be banging on an open door wouldn't he?
Abdulah should be reminded that in 1982, the OWTU submitted a memorandum to the government of Trinidad and Tobago on the
nationalisation of the oil industry entitled
Our Fight for People's Ownership and Control of the Oil Industry
The document was published in booklet form and was accessible to all those interested, unlike the OWTU's latest submission.
Abdulah should also be reminded that, among others, he played a not insignificant role in drafting the 1982 memorandum and that the booklet states on page 61:
"it is pointless that in a small oil producing and refining country such as ours, to have several separate and distinct companies carrying out their operations..."
Abdulah must surely be suffering from cognitive dissonance which is the mental stress experienced by a person who simultaneously holds two or more contradictory beliefs, ideas, or values; or when performing an action that contradicts existing beliefs, ideas, or values.
The attack on workers' job security is stepping up every day, both in the private and public sectors. The outcome of the Petrotrin matter is going to be decisive. There are two options open to the trade union movement. Will the trade union leaderships lead their members in beating back the assault on workers' ability to mind their families by halting the assault on job security? Will the trade union movement collude with the economic and political elites in ensuring that Labour is further impoverished through the loss of job security so that Capital can continue to reap a growing share of the value produced by labour? 
There are two scenarios that may be acceptable to the economic and political elites, but either one will have a catastrophic impact on oil workers and the country. The first is privatisation of the company with massive job losses and the possible scaling down/shutdown of the Pointe-A-Pierre refinery and the hiving off of Trinmar to political financiers and party hacks. The other is continued state ownership with massive job losses and the possible scaling down/shutdown of the Pointe-A-Pierre refinery. 

All this talk about revolutionary trade unionism by the Joint Trade Union Movement (JTUM) is going to be tested in practice. Talk is cheap. By their deeds ye shall know them! The next few months are going to be critical in determining whether, to paraphrase the late George Weekes, the trade union movement proves to be revolutionary rather than resolutionary.
"You can't blame the youths of today
You can't fool the youth...
Teach the youths to learn in school
That the cow jump over the moon''
Peter Tosh
For those of us who would like to blame 'drugs' for everything from traffic jams to 'Mardi Gras' mas the story of the adoption' a 'lad' from the St. Michael's Home for Boy's for a week end is instructive. A word here: officers at places like St. Michael's Home and the Youth Training Centre use the term 'lad' to describe those in their care. The young men are not convicts.
This writer, through a State company's outreach programme, has interacted with five/5 state run facilities for disadvantaged children and teenagers over more than a decade. The story is consistent: underfunding, lack of professional training in many instances, lack of accountability. Of course they provide perfect opportunities for 'false charity'. What is false charity? Keeping an environment/circumstance that does not change but allows the 'concerned' to make noble and 'humanitarian' gestures and appear noble and caring.
Some, like the Youth Training Centre, are better managed, having educational programmes and day release work programmes. It also engages in a high level of cultural activity. They have a strong tradition of excelling is sports such as rugby, basketball, track and field and boxing. At the St. Jude's home for Girls efforts have been made to provide for the needs of the young women who are placed there. The challenge here is that as the name suggests it is a board school and may not have similar resources as the YTC. The managers do make sincere efforts.
It is instructive how some of the girls end up in the St. Jude's Home. Some are deemed 'unmanageable' by school or parents and after being processed through the court system are placed at the Home. Others are victims of 'gender based violence' in and out of the home and are forced to defend themselves. Some of these persons have lost parent/parents through natural causes, through criminal activity, through sheer poverty i.e. parents cannot make ends meet. Some have faced indescribable trauma seeing persons shot and/or killed.
I remember visiting the then El Dorado Youth camp for girls a few years ago. It is a large campus and, en route to administration, I was shown a room where a meeting was taking place. Behind the doors were some 30 children who had seen parents/relatives killed.
A word in passing: the decision to close the Youth camp system was another serious contributor to the alienation and economic incapacitation of a large section of our youth. The Youth camps provide trained persons for most of the public utilities, the military and para-military. This writer has met instructors in the 2 remaining Youth camps at Praesto Persto and Chatham who were proud to state that they were students at the very institutions.

Are there persons and professionals who make efforts to help them? Yes: but as in education, as in health, the system has been broken for years and the heroic efforts of some are not enough to help the many. The bureaucracy for dealing with just one matter is much like going to the Industrial Court.

I do not know how much may have changed at St. Michael's but I recall that on the weekends the educational programs would have ended and essentially a security/supervisory staff was in charge. So the counsellors and other care givers would have left. The living conditions in these places, for reasons outlined above, are unsatisfactory. Then one is dealing with 11 and 12 year olds who have to learn fast how to adapt and survive in these environments.

One soon realises that there is a system, a pathway that may begin in St. Michael's or St. Dominic's and lead straight to Maximum Security with stops along the way at the Y.T.C. No it is not permanent detention/incarceration. In and out of prison/the homes this is their peer group. As with any social setting, groups are formed on kinship, common need, common background. Of course, for some 'authorities' it is preferable and easier to label the groups/individuals as gangsters, delinquents, 'wutless/worthless'' and keep them marginalised. Of course when they mature and fulfil expectations, some loudly complain about the 'crime rate' which has simply burgeoned and crossed borders.

This case which is currently in the news is simply bringing into view a situation which has ripened and expanded and which is further coming into view. Absent the will to investigate, this 'story' populated by defenceless children, will evaporate like the ones about the St. Mary's Home in Tacarigua where similar irregularities were reported but not conclusively investigated.

But these young men and women will 'graduate' into the wider world, moulded and shaped by these experiences by their particular social curriculum. For those of us who are unaware, these now young men and women can be as bright, as intelligent as anyone out here. They would tell you that for many of them 'rehabilitation' can really be a bad joke. Some have to hide their past when they get into relationships or seek employment.

I began by debunking the myth that 'drugs/the drug trade'' is to be blamed for all our social ills. Sorry dear reader. Let us open our eyes and see how incorrect that is.
Sex!
Oh, oh… there's that word again. But at least I have your attention. And yes I found Chalkdust's calypso to be very offensive. And in our context it represents a racial attack. This whether or not it was so intended. It takes what is in reality a complex issue that of so-called child marriage (that many delight in treating simplistically) and narrowing it down to an attack on one leader of a prominent Hindu organization and the prospect of old Hindu men having sex with children. No mention of the Muslims, or the power of the State and the self-determination of communities or even (as I am informed) that the very initiative for this legislation arose from another Hindu organization under the UNC's watch.
"Child marriage"… it's all about dem heathen Indians.
And the goodly calypsonian is now the champion of the Indian woman. Where was he I wonder some years ago when one of his calypso colleagues sang about holding them down, roughing them up and producing midget douglahs? There's a word for that it starts with "r".
And of course this is exactly what Sat wants. He's been playing the game for years, raising controversy inviting attack upon himself so that he could portray himself as the Hindu champion. Haven't the geniuses figured this out yet? I am pretty sure he enjoyed seeing himself portrayed in the Dimanche Gras. But I suppose the calypsonians also got what they want. And is we to ketch.
Sex! That word again. And I think the Opposition is correct (in all likelihood accidentally), there is a very very large difference between agreeing in principle with a fixed age of consent and going around criminalizing by legislative fiat. The good old State apparatus, par for the course in the colonies I fear.
The thing is in our society "child marriage" is almost a cultural vestige of a bygone age. It accounts for less than one percent of marriages and Indians have been in the forefront of seeking to get their children an "education" which involves the deferral of marriage.
Underage sex on the other hand is rampant and this not only with that race and class of people that the rest of society loves to look down and spit upon and really does not care about (no matter who is in Government). So we happily pass laws to give the police more reason to beat and shoot them.
I did use the word "almost". Because there is upon reflection more in the mortar than the pestle and as I heard an Opposition member of parliament on the radio, the penny dropped.
This is not about Opposition obstructionism or an obsolete religious and cultural tradition. And it's not about big fat old men getting their decrepit hands on young girls. No need for Holy Matrimony here, money and power work nicely.
No, there is a genuine note of fear and then we remember the society we are living in. Certain things do not happen; so good decent respectable men of high complexion who live in areas like Westmoorings, Bayshore, and Goodwood Park do not commit acts of domestic violence, rape and paedophilia. We know this for a fact because such exemplars and paragons of virtue never do appear in court.
Similarly we have in our chaotic society groupings that crave and to varying degrees have acquired elite or at least middleclass respectability. And for many such their underage daughters simply do not get pregnant. When last did you hear of this happening to a convent girl?
In this scenario the Indian community is notably conservative. True, there are traditional concerns that are not to be dismissed but I am speaking here specifically to our Trinidadian context where I suggest our communities have been compromised. But good decent young girls be they Hindu, Muslim or Christian do not have sex, do not get pregnant and (heaven forbid!) do not give birth outside of marriage.
And here is where the proposed legislation presents a problem. Along with the dislocating historical forces that have made our young people live in a contemporary popular culture that is drenched in sex. And many are partaking. Their parents and religious leaders know this. And if there is a mishap and a pregnancy … ahm… happens or is liable to happen, there is the much needed emergency valve of marriage. Because our daughters do not have babies out of wedlock!
This appears to be the source of the panic.
And yes as I recall the word "abortion" did cross the parliament member's lips… these words … these words…! Of course whether such a marriage is in the best interest of the young people involved is another issue altogether. But that's not the point is it?
But criminalization of sex is not the answer either. Because, my friends, everybody is having it including these "children". And not just members of the wajang class!
To be honest I do not have confidence in any of the players involved, not the politicians, not the parents (though to be fair theirs is a difficult job), not the religious leaders, not the calypsonians, not the media and the radio talk shows, not the NGOs, the academics and other commentators (please don't get me started on the NGOs and the academics) and most of all not a fascist State apparatus that ought not be brought close to our youth. I fear that to a very large extent our young people are standing alone and there is no one they can trust. God help them! It could drive an atheist to prayer.
I can confidently assert this because if as a people we truly cared for our children we would decisively deal with the system that has them in this situation. And perhaps maybe even in the process build a genuine community. Instead we prefer to wallow in filth.
It would take a revolution… Oh, oh there's that word again…
Now that Carnival done and allyuh head settled (somewhat), could Raymond Ramcharitar explain how
in his February 22nd column in the Guardian newspaper he saw it fit to subtly equate the organisers of the Canboulay event on Piccadilly Greens with the alt-right white supremacist hate group of the United States.
Now as someone who often nitpicks over historical accuracy, I appreciate that there're some issues over the "re-enactment" of Canboulay. Me eh too sure it had clowns and bats during the original riots in Port of Spain, San Fernando and Princes Town (although there would have been midnight robbers of a different kind). But say wha, artistic license.
However, maybe it's just the huge chip on my shoulder, but he's done this before. Once, equating Africentrists with the Ku Klux Klan. So I'd like clarification given the roots of the alt-right in groups that have openly murdered people of colour. I'm also curious about his definition of resistance since he classifies the original riots as pure criminality (committed by other islanders too!!) who came to Trinidad "because of its general lawlessness and corruption". 
Xenophobia aside, this is interesting. PNM and UNC weren't around then, so who were those corrupt people? And it's curious he made no mention of The Diaries of Abbe Armand Masse, the French Catholic priest who on 30th April 1881 wrote that the marchers often "amuse themselves in a more or less noisy fashion but peace is not compromised" but that year "by a sort of bravado, the Chief of Police…at a dinner…made a wager to stop these bands". How does that fit into his arguments I wonder?
And Ramcharitar, didn't James Scott in his book "Weapons of the Weak" argue that peasant resistance to oppressive regimes – which
are militarily stronger – are mostly through passive go-slows, sabotage, disobedience, absenteeism and theft, rarely open revolt? And what were the living conditions that forced 'small' islanders out of their homes to come to Trinidad? Not the same slum conditions that existed here in the barrack yards that colonial officials created to force labourers to work close to the estates? The same slum conditions that existed right up to the riots investigated by the 1938 Moyne Commission? You know the answers; they're there in your doctoral dissertation "THE HIDDEN HISTORY OF TRINIDAD: UNDERGROUND CULTURE IN TRINIDAD 1870-1970".
Between pages 9-12 you recount the criminally exploitative behaviour of British capitalists against their own people. So how'd you think they'd be when one includes "race"? West Indian barrack yards were London's sweatshops. Further, you pontificate about "riots, steelpan and violence as primary or significant components of Trinidadian history" but on page 191 of Hidden History assert "overt values held by the masses…were entirely determined by their reactions to a hostile physical environment, authoritarian control over the citizen by police and authorities (and) a contemptuous social structure…"
It's interesting how "colonialism is long gone" yet you point out that the descendants of that old elite remain in Trinidad, having as much influence as their forbears did – often with the same racist views of the laboring class. Now it's true, by 1962 they were joined by new Afri/Indic elites; true they all manipulated the working classes when it suited them. But that's the point: the underclass understood that then and today (which is why MX Prime's song this year resonated among them; it expresses how they feel about a system that was never meant for them at all)
Keep that in mind the next time you pen another xenophobic rant. Better yet, read over your dissertation as I did.
The state of the public health system has always been a critical political issue. The concept of Health Sector Reform first came to the fore in the Julien Commission of 1957 and was kept alive in the National Advisory Council interim Report of 1978; then came the Toby Commission Report of 1982. 
All of these reports on this question of Health Sector Reform ( HSR) led to the government approaching the Inter American Development Bank (IADB) for funding for the purpose of bringing it to reality. The IADB during 1989-1992 dispatched eight missions to this country to get a first hand understanding of the health sector and to examine the feasibility of health sector reform. .
What followed was a decision by the Manning government in 1992 to introduce Health Sector Reform. Consequent upon that decision, consultants, both foreign and local, were brought into the picture in 1993.
The consultants presented their report in 1994. That report which contained 40 Annexes outlined i) proposed models for improvements ii) human resource requirements iii) estimated costs iv) strategy for the way forward (National Health Services Plan). The stated goals of the Plan were as follows: "To improve the health status of the population by promoting and providing affordable quality health care in an efficient and equitable manner."
The weakening of the Public Services Association (PSA) was critical to the "success" of Public Sector Reform; as it was for the initiation of the Health Sector Reform Programme. It goes without saying that the weakening of the trade union movement from within is also critical to the success of the public sector reform plan as well as the plan to hand over a substantial portion of public funds to the private sector through the sale of profitable state enterprises.
It is true that corruption is one way in which it is done, but for the purpose of this article we will deal only with health sector reform in an effort to determine whether it was an idea worth pursuing. But it is important also, to note that the reform of the health sector is but one aspect of public sector reform which engaged the attention of successive governments.
FIVE OBJECTIVES
It went on to say that; This goal was supported by five (5) specific objectives: 1) Strengthening the policy-making, planning and management capacity of the health sector; 2) Separating the provision of services from financing and regulatory responsibilities; 3) Shifting public expenditure and influencing the redirection of private expenditure to high priority problems and cost-effective solutions; 4) Establishing new administrative and employment structures which encourage accountability, increase autonomy and appropriate incentives to improve productivity and efficiency; 4) Reducing preventable morbidity and mortality through promoting lifestyle changes and other social interventions.
In 1994 the Regional Health Authorities Act was enacted. According to the Ministry of Health the strategic intent was to guide it in: achieving significant shifts in resources; reducing bed numbers; introducing specialist services; introducing new technology; introducing new management and operating systems; delivering new services based on need and effectively work with provider agencies.
However, it regarded the following as key technical requirements: i) Human Resource and Change Management strategies (Transition Plan); ii) RHA Management Systems and Protocols; iii) Quality Management; iv) Needs Assessment (National Disease Surveillance system); v) Health System Information Strategy; vi) Health Financing Strategy.
On the question of Human Resource Management, it claimed to have achieved some objectives such as the creation of six (6) core Directorates: Health Services Quality Management; Health Policy and Planning; Health Promotion and Communication; Finance and Projects; Human Resources and Information Systems.
The challenges were: dual track employment (Ministry of Health and RHA staff) and the limited capacity at the RHA and Ministry of Health to undertake new roles. Another area in which the Ministry of Health believed that it had achieved some of its objectives is in the area of RHA Management Systems. But there were challenges as well. The achievements were; the Decentralisation of decision making and the Reductions in operation cost through bulk Purchasing. The Challenges were in the area of Accountability Measures such as Business Plans, Ministry of Health Purchasing Intentions and Annual Services Agreements not being implemented.
In the area of Health Services Quality Management, it listed as Achievements, the following: the fact that the Report on Regulating Health Care Quality was finalised by Quality Management Legal experts; that the Health Services Accreditation Manual for T&T was approved and distributed to stakeholders and that the Health Services Quality Council was operational.
CHALLENGES
It lamented the fact that challenges still existed in the following key areas: Risk Management Policy Framework; Health Technology Assessment policy and guidelines; Inventory Management and Review of Medical Records Policy and Procedures. With respect to Health Needs Assessment, it highlighted the completion of the Baseline Assessment (Situation Analysis) and the fact that it was completed as an achievement, but it claimed to be challenged by the failure on its part to conduct the first nationwide Needs Assessment.
The question of Health Financing was treated within the overview. In that area, it claimed as an achievement the existence of a new technical Secretariat to spearhead alternative financing for the sector. It would appear that this Secretariat was established because of challenges it faced following numerous aborted attempts at new financing strategies and because of alleged stakeholders' scepticism.
In conclusion: the overview posited the following: 1) that the HSR objectives were on target; 2) that the HSRP design for achieving health system improvement was sound; 3) that the soft components (technical knowhow) to effect the sector's full transformation lagged because among other things: 1) the general Public Sector Reform process was slow and ii) There was limited absorptive capacity at the Ministry of Health and the RHAs. So what is the position with health care in Trinidad and Tobago?
The RHAs are challenged by the high rate of turnover of professional staff that migrates to jurisdictions where the grass is greener. That is why on June 1, 2003, the government entered into an arrangement with the UNDP for assistance in sourcing health professionals. This process of building capacity seems to be one that is on-going because, ever so often we read of the government's decisions to source doctors and nurses from the Philippines, India, and Cuba.
INEFFICIENCY
What this means is that there is a level of inefficiency in the provision of quality health care, because the current staff levels are unable to meet the performance standards necessary to satisfy the demand for health care.
There was also the contentious issue of the staffing of the RHAs through the separation of employees, from the Ministry of Health through the process of voluntary separation, or transfer with their service to the RHAs. Those who did not wish to be employed in the RHAs had the option to be transferred to another Ministry or State Enterprise.
There was also the problem of persons who were employed with the Ministry of Health, who did not wish to take up employment with the RHAs. It is important to understand, that when the Ministry of Health implemented its plan by which the health employees were separated from their jobs, they became free agents who entered into a new employment relation with these new entities (the RHAs) through the implementation of fixed term contracts.
In the absence of UNION REPRESENTATION, individual contracts become a weapon in the hands of the employer and are used effectively, to divide and rule. Some of the other problems are the question of the shortage of beds, the overcrowding of Wards. No proper indexing systems in the Stores, and the mysterious disappearance of hospital property. There is also the problem of the chronic shortage of drugs in the Pharmacies of the Hospitals. But we are told that supplies are purchased in bulk. In addition, there is the perennial problem of breakdowns of various pieces of equipment necessary for the performance of diagnostic analysis of different types of medical problems
Patients are required to wait for months on end to be called up for surgery. This untenable situation has led to persons who can hardly afford having to resort to private institutions to have their operations. This has led to the most bold face scandal that has erupted out of the sector called the External Patients Programme which is a scheme to use the hospitals as gathering stations for private hospitals run by the very doctors who supposedly work in the public health sector. This costs the citizens of this country tens of millions of dollars and counting
The commissioning of the teaching hospital in San Fernando may/may not solve the problems of the bed shortage in the SWRHA, but other issues are yet to be resolved; such as the shortage of staff at the Eric Williams Medical Sciences Complex as well as the long delays to get a bed; the incompetence which is said to be rampant at the EWMSC and the Maternity Hospital in the area of administration, Human Resources and Industrial Relations.
As a result, many grievances affecting employees remain unresolved. These issues expose the inability of successive governments to provide an efficient and affordable health service, and because of this, there is a public outcry over what is perceived as its failure in this area, or perhaps it is, - as some people believe - a deliberate decision to run down the public health system as a means to mobilise public opinion in favour of privatization.
See what happens when you are not ready for office? From The Donald to Rottweiler: you mess up and even turn your own voters/supporters against you. George Bush taught us that you can fool some people all the time, just get them to the polling stations on time. Obama simply followed suit using a "Black out'' i.e. get the Black vote out and then turn around and tell them "Don't forget I am an American, not a Black one''. Worked for him!
Donald may really find himself in trouble with American sports fans. Budapest has pulled out of bidding for the 2024 Olympics. Rome pulled out late last year. Its mayor recognising that Italy is next in line to become a basket case behind Greece and Spain decided to do her own Olympic Brexit before David Cameron did.
Except that she won and Cameron lost. Russia will not be even allowed to host a hula hoop contest in the near future; not as long as Seb Coe is in office protecting English cyclists from WADA. So that pretty much leaves the cities of the United States. Just remember cities bid to host the Olympics.
Olympic athletes come from all over the world. Once your team selects you there is no screening. In fact, your country is responsible for eligibility on all fronts. That is why as our Jamaican counterpart pointed out the job of Chef de Mission at these major games is a serious one, except to Ian from Trinidad and Tobago. Remember our Chef-de-ESPN from Rio 2016?
What will happen when an American city wins the bid and Donald finds out that athletes from all over the "Middle East'', from Mexico, from the Caribbean, from Eastern Europe are supposed to participate?
All these foreign terrorists, disguised as athletes coming to throw spears, iron balls and discs, shooting rifles for sport…yeah right…jumping great heights; even grappling with American judokas. Remember he is building walls/fences. My God! They might even waterboard American swimmers, divers and water polo players. Al Qaeda, Boko Haram and Isis in track suits and Nike footwear!
I think this one issue will force Donald to dump his immigration policies. It is one thing to ban Dwight Yorke but quite another to affect Nike's and Coca Cola's bottom line. All these athletes coming to America to drink Pepsi and eat McDonald's at an Olympics and future World Cups. and put on Mickey Mouse headgear and go to Disneyland!
I hope Lorreta Lynch, former US Attorney General does not hear about this. Loretta could not protect Black lives but went after white ones in F.I.F.A to control market share. Remember football is the only 24 hour/7 days a week/365 days a year sport. Football, like political and economic corruption in Trinidad and Tobago, goes on regardless.
Football is sponsored by non-American companies like Heineken, Puma and Adidas. So this drive against FIFA, in my view, was about breaking that stranglehold. Coca Cola is NOT it in soccer!
But I still may be able to save the day for the USA in spite of The Donald's 'harrumps'. If America can hold a baseball competition among its own clubs and call it a "World series', and call the winners of the Super Bowl which is also contested locally the best in the world, why can't Donald exclude most of the nations outside America and call it the Olympic Games...
Go Mr. Duck!! Hey! I might just be on my way to the White House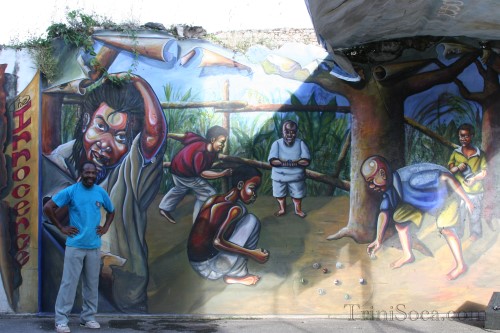 The CALL for the organization of African people is based on a critical analysis of reality. The fundamental basis of the analysis is that, "WE ARE ONE AFRICAN PEOPLE!" The fundamental nature of our reality is that, "WE ARE AT WAR!" Some Africans refuse to accept this reality while others reject our analysis of it. This makes organizing difficult, since we cannot move forward until the masses of our people understand and accept both the reality and the analysis of it.
It is well known that oppression breeds resistance. But since we deny our oneness and deny that our enemy is one, our resistance remains instinctive, uncoordinated, unplanned and unconscious. We neither benefit from our heroic victories nor learn from our tragic defeats. We meet slaughter with blissful ignorance and accept death without purpose or recourse. We die in denial without ever having lived and betray the blood of those who brought us to this time in space. All of this will only change when we organize on the basis of our African identity. Once we see ourselves as one people we will understand the depth and scope of our condition. Once we are so organized we can effectively resist those who wage war against us.
The truth lies bare and the facts are frighteningly clear. The well worn enemy tactics (counter insurgency) are internationally evident. It is one thing to destabilize our families, our communities, our cities or individual nation-states. It is something else altogether to destabilize our world. They eliminate our genuine and potential leaders with murder, incarceration, exile and corruption. They destroy our genuine organizations and governments. They destabilize our populations through mass population removal, economic deprivation, and genocidal warfare.
They impose neo-colonial leaders and neo-liberal policies of inclusion, privatization, and neo-liberalism as means of social redemption. Through these means they keep us in refashioned colonies and reduce our instinctive, unconscious rebellion to nothingness. These are the same methods the imperialists are using in Syrian, Afghan, and Iraqi wars. They are the methods used against Africans in Libya, Sudan, Brazil, Trinidad, Panama, Pretoria and Baltimore. These are age old capitalist strategies played out on a worldwide stage against the most degraded sector of the human family. This is millennial divide and conquer and African people are the divided and the conquered.
Our denial of evident realities induces us to reduce this counter insurgency to isolated cases of mass incarceration, police brutality, gentrification and democracy. We do not wage effective international resistance because we do not acknowledge being under worldwide attack. Bombs in Libya are not considered an attack on the black faces of Soweto. Kidnapping, torture and murder of girls in Nigeria is not understood as an attack on the African feminine everywhere.
Police and internecine violence in the cities of America are not seen as attacks on African manhood throughout the world. Our denial of this war on us does nothing to end the siege. Refusal to accept the existence of a common enemy does not make them less brutal or diminish their international character. Denial that we are a people at war only undermines our ability to organize, unite and conquer our liberty.
We will never get organized until the masses of African people see the need for it. We will see this need when we see ourselves as one people with one enemy waging a single international war upon us. The time has come to open our eyes and see the world as it is. We have to understand our world if we are ever going to change it! Now is the time to get organized.
Answer THE CALL to get organized by sending an email to
thecall@yahoo.com
, stating your name and where you live. For more information visit:
The Call@CirclesofLightandLife
on Facebook.