News & Comment
The Union frequently comments on events or receives news of general interest and these are documented on this page.
Subscribe to posts
When this PM announced early in his tenure that citizens would be weaned from reliance on the state, he was not joking.
I met a woman, widowed just last year, and her tale was one of such sadness. She had quit her job years ago to become a full time mother to her daughters. Her husband fell on some difficult times just as the last one was entering her teens. He could no longer afford to live where they were and, so, took his life's savings and spent it building up beneath a relative's house. Then he got a job and he was sure that things would turn around. One month after, he died of a sudden and massive heart attack. He was 45.
His wife was left with nothing, no income and a daughter to raise and send to school. Of course there are provisions for such needy cases. The state provides widow's grants and others which are of assistance. The lady decided not to sit and wait but go back out there into the job market in order to care for her family, she is after all qualified. So far no luck! While this was taking place, the state in its ongoing exercise to cut social spending, stopped the grant for her child. She now has to live on $800 per month. Imagine that! I didn't have time to get all the details but I can tell you this...
From the inception of this government, things have changed for the worst. The prices of Gasoline and Diesel have increased astronomically. Value added tax has been reintroduced on basic food items along with a number of others, which were, before, VAT free. Numerous private and state enterprises have been closed down. Job losses are being reported daily. The burden on the taxpayer has increased astronomically.
Your cost of living in now possibly twice what it was prior to 2015. Duties on online shopping and motor vehicles also went up and the list goes on and on. Utility rates are set to be increased; threats to move the retirement age upwards and threats to the NIS benefits have also been made.
I recently learned that the centre at Piparo which deals with drug rehab and the socially displaced is also being closed down. Staff there received letters of termination which took effect at the end of June; a premature move since there was no alternative accommodation or treatment for the persons housed at this facility. Staff has since been given a one month's extension. The disabled, and differently-abled are now all under threat, if they haven't already been affected.
All these measures which have been introduced and which are being considered, continue to place the burdens of structural adjustmen t not only on the backs of the tax payers, but more so, on the most vulnerable within our society.
At the same time, our economy, ever reliant on oil and gas, is about to receive a further shock. Thousands of workers involved within this industry now face uncertainty as Petrotrin, the state's oil company, is now under threat. Talk of Privatisation continues to run like bush fires during the dry season.
Violent crime continues unabated, six shot on the Boardwalk, while valuable state resources were being utilised to find a cell phone. The sea bridge was basically crippled, seriously affecting the economy of the sister isle. How many properties were foreclosed on by the banks simply because their owners could not meet their mortgage payments? They rely upon the domestic tourist in most cases who in turn, rely upon the sea bridge.
We have the Magdalena Grand, a multi room five star hotel in Tobago, on average, 10% filled. Yet they are considering bringing in Sandals Resort, to share in the dwindling amount of tourists visiting the island. Sandals by the way is to be given a huge tax holiday, meaning that the state will not benefit from it. A few minimum wage jobs will be created in exchange for the destruction of a wondrous and beautiful eco-system situated at No Man's Land. Has anyone considered the impact such a development will have on the nearby Buccoo Reef and the beautiful Nylon Pool? I sincerely doubt it.
It's becoming clear to me that something is wrong. Every move being made seems not in the best interest of the country and citizens. We are not a true capitalist economy. Outside of oil and gas, we produce very little. We are an economy of consumers rather than producers. Such an economy must have at its core, significant social interventions. If you can't employ them, you must at least feed them.
Turmoil at the nation's hospitals, lack of beds and basic drugs, yet some are being given preferential treatment - being treated at foreign medical institutions at the taxpayers' expense. They won't go to our local facilities. They value their lives too much. After all, they are important, you and I are just peons, subjects of a Monarchy rather than a Republic.
How much money was spent on bailing out CL Financial, a private entity which was mismanaged by its private owners and managers, yet we are the ones who were forced to foot that bill? So many reports of insider trading and fraudulent business practices came out of the investigation conducted, yet no one was held accountable.
Now we are hearing about a National Investment Fund being touted as a saviour, I doubt it. This I think is geared at the Power brokers getting their hands on Angostura and some of the more lucrative assets held by CL Financial. How many of us, average citizens can afford any substantial investments in such a fund? Is that then, really for us?
I put no water in my mouth to say that this country is being run in the worst manner I have ever seen. Daily our intelligence continues to be insulted while we sit back and say nothing.
I fear for this country, I truly do.
So what is the IMF (
International Monetary Fund
) up to these days? Well let's see: they continue to tighten the squeeze on
Jamaica with their forty year embrace
; they are gleefully sinking their claws into Barbados, which had avoided them for decades. They have instigated an eruption of
anger and social unrest in Haiti
with their vicious austerity programmes.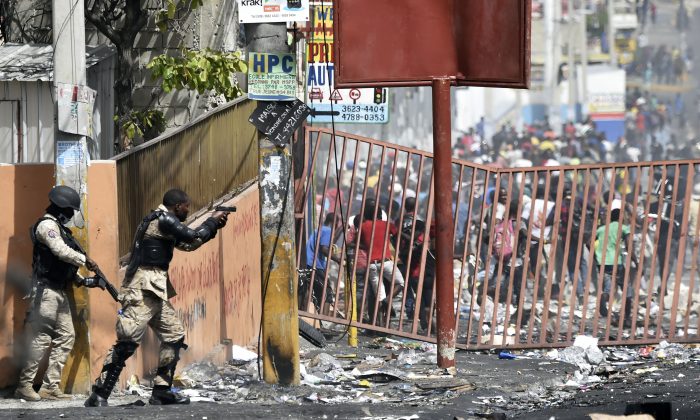 All this, of course, with the supine support of the bandits and confidence tricksters, posing as government officials and politicians who feed like parasites off Caribbean state institutions and who feel that public funds are for them to do with as they please.
One would think that, at least in our region the IMF has its hands full coming up with mechanisms to increase the pressure on working people who are fighting hard keep their heads above water. 
But no! They taking a keen interest in what is going on in our space in the archipelago. They just holding strain and mamaguying G(rowley) with talk about the economy improving and waiting for the opportunity to pounce.
In the meantime, they blowing in the Finance Minister ears that he must implement the neo-liberal programmes that the IMF have lying on their metaphorical shelves, which they does just dust off and apply to states on the periphery of the international capitalist system. One size fits all: better fete if those states can be classified as neo-colonial.
Who better ears to blow in than the smirking de facto Prime Minister, while the de jure PM is busy alienating every interest group, faction and clique in the country with his weird comments, off putting personality and inability to get simple things done.
After all, dey ent riot yet!
Some of these IMF programmes include structural adjustment policies (SAPs), according to the website GLOBAL EXCHANGE designed
"to ensure debt repayment by requiring countries to cut spending on education and health; eliminate basic food and transportation subsidies; devalue national currencies to make exports cheaper; privatize national assets; and freeze wages. Such belt-tightening measures increase poverty, reduce countries' ability to develop strong domestic economies and allow multinational corporations to exploit workers and the environment."
So what is the IMF blowing in Imbert's ears which he, no doubt, receives while giggling and rubbing his hands in glee. Every year the IMF sends staff members on what they call missions, which are regular consultations under what is known as Article IV consultations; in the case of T&T to monitor economic developments.
The use of the word missions is interesting in that it ties the IMF "consultations" to the practice of religious organisations despatching missions to colonialise the spirituality of the indigenous, the enslaved and the indentured peoples. You know: missions to the indigenous peoples of Trinidad which ended up in massacres and genocide; Canadian Missions to ensure that the elite of the India-descended population absorbed European values and ways of looking at the world, including an implicit acceptance of their own inferiority.
Only this time the mission is to keep the peripheral capitalist countries paying what
Fidel Castro used to call an unsustainable debt
and more importantly to ensure that countries like ours are stuck firmly in their subservient places in the international capitalist system.
On July 6th 2018, the IMF published what it calls
A Staff Concluding Statement of the 2018 Article IV Mission.
This describes the preliminary findings of the IMF staff at the end of an Article IV "consultation" to T&T.
Hear some of the things they are urging on Imbert. You have to decipher the almost-incomprehensible jargon in which they couch their vicious advice.
"The economy shows signs of improvement from the second half of 2017, with return to positive growth expected in 2018."
Sounds impressive, but when one reads further they say
"Real GDP contracted at a slower pace of 2.6 percent in 2017."
So actually the economy is not growing but declining at a slower rate!
The IMF further states
"The weak non-energy sector dampened the overall growth, reflecting weak activity in construction, financial services, and trade; continued shortage of foreign exchange (FX) and slow implementation of public investment."
So there you have it: instead of the economy turning around as some would have it, the non-energy sector is really in a bad way.
Hear them again
"Despite higher energy prices, energy-related revenues remained flat, due in part to fiscal incentives."
What this means is that our successive governments have succumbed to the blackmail of the transnational energy companies and have agreed to make all kinds of tax concessions, so much so that according to the REVIEW OF THE ECONOMY 2017tax revenue from oil companies fell from $16.96 billion in fiscal year 2013-14 to $1.07 billion in fiscal year 2016-2017.
Energy-related revenues didn't remain flat, as the IMF says, but fell to next to nothing because of deliberate changes to tax policies by
 the government as applied to oil companies, which cripples our one crop economy, but had our foreign overlords laughing all the way to the bank. 

The IMF "staff welcomes ongoing reforms to enhance the fiscal regime for oil and gas to reduce tax leakages, while providing attractive terms for investment." This is a back-handed way of encouraging the government to continue along the path of concessions to BP, BHP, Shell and the rest of the upstream vampires. At the same time they advise the government to consider "a gradual increase in the VAT rate toward the regional average (15 percent)."

The IMF bares its fangs and exposes its mission of squeezing the last five cents out of working people's pockets when it stated: "Staff concurs with the authorities that raising utility tariffs should be guided by a rate determination exercise by the Regulated Industry Commission, and implemented with urgency." To crown it off they also advises the government to embark on "further cost savings in education, health, and social services."

Dealing with the National Insurance Scheme (NIS), the IMF further exposes its anti-worker bias by saying "Staff welcomes proposals to further increase the contribution rate and gradually raise the effective retirement age from 60 to 65 …" It goes on to call for "Urgent action…to increase efficiency and reduce labor rigidities in the public sector."

What this means is that the government must continue giving a body beat to the Public Service Commission by staffing the public service with contract workers. Between 2005 and 2011, temporary staff in the public service (contract workers) increased from 1,920 to 12,636. Those are the last years for which I could locate figures. The situation is probably much worse now.

The IMF further advises "Greater flexibility, implemented through a mechanism that allows some market force in determining the exchange rate, would facilitate adjustment to external shocks, help restore competitiveness, and safeguard foreign reserves." This is a ramping up of the pressure on a reluctant government to devalue the TT dollar, regardless of the catastrophic effect this would have on the standard of living of working people. How this turns out…we shall see!

The IMF is not confining itself to giving economic "advice", but is also interfering in the political arena when it calls for the Insurance Act to be proclaimed. You thought T&T was a sovereign nation didn't you?

So there we have it. Imbert has at his disposal a whole range of mechanisms devised by the IMF, which he seems very eager to implement, once the political situation permits. These measures transfer income from the pockets of working people and the poor into the pockets of the one percent and their numerous hangers on and parasites. These elements are determined to push through with their neo-liberal programme designed to widen the growing gap of inequality between the one percent and the rest. And why not! After all, we ent riot yet!
On June 28th 2018, civil appeal P210 of 2018 was filed by the Public Services Association in the Court of Appeal against the
judgement of the Industrial Court delivered on June 10th 2018 in the matter of trade disputes nos. GSD TDs 173-177 of 2018. 

The judgement referred to the dismissal by the Public Services Association of eleven workers who are members of the Banking Insurance and General Workers Union. The Industrial Court comprising Ms. H. Seale, Mr. G. Rousseau and Ms. B. Mahabir had ordered that the eleven workers be reinstated in their respective positions without loss of seniority, service and benefits.

The Industrial Court also ruled that they be paid their salary and other pecuniary benefits that were payable to them from the dates of their dismissals on or before July 2nd and that the workers be paid as damages, $10,000 each.

The Public Services Association has filed seven grounds of appeal including: that the Court was biased; that the Court intervened extensively in the trial proceedings. Appeals against judgements of the Industrial Court can only be filed on points of law.
The bold-faced arrogance of these political hustlers (watchmen for the one percent) who we insist on putting into office is becoming unbearable and is extremely contemptuous of the intelligence of working people.
Imagine the Minister of Finance (the de facto prime minister) is cited in the Express Tuesday 26th June 2018, when talking about the National Investment Fund which would be based on assets from the CLICO bailout thus:
"Imbert described the prospectus as a gift to keep on giving to the people of Trinidad and Tobago, from whom $23 billion in tax dollars was injected into the collapsed conglomerate."
A gift, this leprechaun says a gift! How can you give someone a gift that is bought with her own money? Twenty three billion dollars of public funds have been swallowed up by the moneyed elite in the CLICO affair with no proper accounting, with no one even being hauled before the courts, much less making a jail. From whom does this gift come?
Both those who govern the country and we the working people must understand that public funds do not belong to the government for politicians to do with it what they will. There is no such thing as "government money". These are public funds that belong to the people of T&T. They do not belong to the smartmen and their political parties. They do not belong to their financial investors who reap lucrative contracts and make multi millions by ripping off our funds.
The National Investment Fund is no gift to the people of T&T. In fact it further ensures that we continue lining the pockets of the one percent. How? In the same Express article cited above Impsbert is cited as saying the fund is to facilitate the
"participation of the widest possible cross section of citizens."
Whenever you hear that term, alarm bells should go off in your head. Whenever the government makes an initial public offering (IPO), they prattle on about allowing the widest possible cross sections of citizens to participate in the fruits of investment. They know and we know that the broad mass of working people and the poor cannot buy their shares and their bonds. They can hardly make two ends meet as they struggle to feed, house and educate their children in the face of rising prices, frozen wages and unemployment.
Let us be clear. They took 23 billion dollars of public funds (our money) and gave it to their friends and compères to bailout the company. The assets of CLICO are now being used to launch a fund that will give tax free dividends to bond holders, many of whom, no doubt, would have benefitted from the CLICO bailout. So, our money has been used to compensate greedy CLICO investors and is now being used to fatten the pockets of the moneyed elite. Remember the First Citizens IPO?
All this is happening as many workers are being thrown on the breadline; others are subsisting on 2011 and earlier wages; the health system is being privatised in front of our eyes; public servants, health care workers and teachers are retiring and have no clue when they will get their pensions; the government has thrown Petrotrin to the wolves; the country is sinking into a cesspit of corruption and criminality and the Minister of Finance is boasting about giving gifts!
He may be right the National Investment Fund is indeed a gift, but not to the working people and the poor, but yet another gift to the moneyed elite – those who have sunk their dirty paws into the treasury and feel entitled to accumulate capital through control of the state which gives them access to public funds. In Trinidad and Tobago the primary mechanism of capital accumulation is the State. That is why the struggle for control of the State is waged with such vicious desperation.
Mr Imbert goes on to say that "only wicked people" would object to such a gift for the country. So if you believe that public funds should be used for public purposes and not to fatten the pockets of those whose pockets are already fat with ill gotten gains, then you are a wicked person.
So here we are being taken for fools and knowing we are being taken for fools and yet some of us will defend policies which we know are adding to our exploitation and growing misery, because is we party and the other party will do worse. They really have we where they want we. When the mark buss they will be in Miami or Panama and we will be living in the ashes - if we allow this gobar to continue.
Most of the problems associated with Petrotrin come from a lack of accountability and poor decisions by the board and management. What's happening at the refinery? Why is there so much overtime? Someone has to be responsible for that scenario. Is it absenteeism or is it due to not filling vacancies?
While this current board has embarked upon much needed cost cutting measures, it's apparent that the intent is not merely saving money. You cut costs: you do not starve an ongoing operation of vital inputs - Marine transportation for example.
Trinmar relies upon a prompt and efficient transportation network in order to be able to respond in a timely manner. A lack of vessels increases downtime of equipment. The result of which is a decrease in production.
Billions of dollars were spent at South West Soldado, an area of vast potential in terms of increasing production, yet the final infrastructure needed to monetise this was not done, that is, the attaching of flow lines. Who is responsible for this, certainly not the workers?
Need for modern day equipment is identified to replace some obsolete ones, dating back to the 60's and 70's. Equipment which parts can no longer be sourced for. Money was budgeted to purchase them but it was never done. Who is responsible for this? Certainly not the workers!
Time and time again we see square pegs in round holes: managers without any formal education being given the responsibilities of making important decisions for which they are not equipped.
How many of them understand the basic economic principles of running a business? Principles such as cost benefit analyses; return on investment; payback period and so on. Indeed, the hiring and promotion practices of all state enterprises leave a lot to be desired. It's always about cronyism, favouritism and victimisation. Political interference also topping the list of problems!
Now we are faced with the results of these combined negatives. We are faced with a compounding of ills spanning decades which has led to a good entity, becoming unprofitable. Where do we start?
The first thing to be attacked is always the workforce. Workers are always made to pay for the bad decisions of management. The WGTL plant remains a sore point for this organisation and a very expensive one. Workers had nothing to do with that decision.
So much money has been spent over the years on non essential services: a consultant for this, a contract for that, yet none of it adding to the bottom line; none of it adding to an increase in production. To conduct a forensic audit of this entity would require years if they really are to figure it out.
The easiest option it would seem would be to send people home and privatise the production and refining areas of the company. Privatisation however, comes with its own set of negatives. We were once privately owned. At that time, it was seen that most of our revenues earned were leaving the country. Texaco, Tesoro etc were the ones reaping the benefits of our natural resources resulting in a drain of our foreign exchange. So, we nationalised!
How has that worked out for us? What's our history with respect to state owned enterprises? Like in most countries with state enterprises such as ours rampant corruption and mismanagement occurs. It becomes a political feeding trough with jobs for the boys and contracts which add no value. We create layer upon layer of unnecessary administration until we reach the point where we are now no longer profitable but become part of government's social wage package. I always said that we were fast becoming another Caroni Ltd.
Yet this entity contributes significantly to the socio-economic position of our country: so many rely upon it for a living, both directly and indirectly - permanent and casual workers, contractors and contract workers. These workers in turn support the various businesses within our retail structure. These workers also become employers in their own right, employing tradesmen and service providers to build and maintain their homes, cars etc.
The challenges are immense. The ramifications of not acting are inconceivable while those of acting without weighing out the entire picture are even more so. The social impact of shutting down, privatising etc will be significant at a time when the state has declared its intent to steer the population away from reliance upon the government as sole provider.
Cuts to social spending continue daily. Increases in taxation, reductions in subsides etc means less disposable income in the hands of the average citizen. Further reductions of same would result in more and more people becoming reliant upon government's social wage package for their mere survival.
One cannot simply take apart such a major contributor to the domestic economy without providing viable alternatives. The social impact will be unbearable. Crime and social unrest will sky rocket. Negative growth will double and quadruple. Our dollar will have to be devalued further.
We have long bandied about talk of diversification to no avail. We remain an economy reliant upon oil and gas, with a bunch of consumers whose spending is what keeps the domestic economy afloat. Take that away and what are we left with? Something needs to be done but it will take true visionaries and patriots to take us out of the position we are in.
I have to extend deepest apologies to the unionised working class. I was convinced that June 19th Labour Day would be a bust; that workers would be so turned off by the stupidness that passes for leadership in much of the trade union movement, they would have stayed away. But I was wrong and am glad I was.
I underestimated the resilience and perceptiveness of the working class who, while seeing through the tomfoolery of the leaders, have made it clear that Fyzabad does not belong to the leaders, it belongs to the workers. June 19th has become an ineradicable part of the cultural topography of the country.
You can't fool all of the people all of the time. In fact, you are fooling less and less people as time passes. Gimmicks, photo ops and sound bites do not constitute leadership. Militant rhetoric does not make up for incompetence, political opportunism, playing footsie with the employers, refusing to train and educate members in the basics of trade unionism and putting personal interests above the interests of union members and the wider working class.
What we must remember is that the unionised workforce of this country is a shrinking percentage of the entire workforce. Because of the demonstrated lack of concern for non-unionised workers by trade union leaders, the perception among them is that trade unionists are a bunch of privileged confidence tricksters, political hustlers and hypocrites who treat their staff, in some cases, worse than the one percent employers. And that is not easy to do given the brutal and barbarous nature of industrial relations in non-unionised workplaces.
Yet trade union leaders are preparing to shut down the country by going on platforms and calling for the very non-unionised workers who they ignore and push away to jump up and say yeah we going to rest and reflect!
Most of the "big" unions no longer extend representation to what are called off the street workers, although they know full well that all aggrieved workers, whether members of a recognised majority union's bargaining unit or not, can only access legal remedy if they are represented by a union.
This attitude strengthens the hands of the employers who are spouting a lot of nonsense about employee rights versus workers rights meaning that workers should not have to turn to a union if they want to have access to the court. This, of course, would apply to the hundreds of thousands of non-unionised workers who are grievously exploited by their employers.
Yet these workers who are turned away by the "big" unions when they are arbitrarily dismissed or have their rights violated are expected to jump and follow suit when the leaders of these same unions play their hands.
Maybe when trade union leaders talk about the working class, they mean only unionised workers. Without support from non-unionised workers September 7th is not going to have the impact it is supposed to have. Indeed to have an effective shut down, support must come from the mass of non-unionised, workers, taxi and maxi drivers, PH drivers, roadside vendors, parlour keepers, farmers, marker vendors, fisher folk, small business people etc.
To get that support involves hard work on the part of the leaders of the trade unions: community meetings, discussions with associations representing non-wage and salary earners, associations representing maxi and taxi drivers and such like even among the unionised workers the work of education and mobilisation is not yet at a high pitch.
We have no moral authority to call on the employers and the state to be more "transparent" and "accountable" if we do not hold our leaders to the same benchmarks. How can we berate the employers for their ignoring the procedures involved in disciplining workers when we stay silent about trade union leaders doing the same?
How can the President of the National Trade Union Centre fire workers for engaging in union activities and still remain President of the largest labour federation in the country? Not only has he remained president, but other trade union leaders have helped him polish his political image by their show of support in Tobago knowing full well that it is all part of his personal political ambition and has nothing to do with advancing, protecting and defending the interest of workers. Ask the PSA staff members!
How can we rationalise trade union leaders, despite the more than fifty years of experiences with tripartite committees over the decades, rushing to be part of that dead-end; having signed a Memorandum of Understanding with the PNM, a party which historically has done more than any other institution to hamstring, obstruct and beat back the advance of the working class since independence? The truth is
that tripartite committees over the decades have laboured long and hard and have produced a big fat zero.
How can we rationalise that after leaving the tripartite committee over the brutal treatment meted out to Tourism Development Company workers, they sneak back in on some spurious grounds? The ironic thing is that at the infamous meeting of the Joint Chambers in March the business owners poured scorn on the Tripartite Committee and deemed it a waste of time.
Our country is at the brink of a social explosion which promises to be directionless, anarchic and extremely violent, unlike those that have occurred in the past. Let us not fool ourselves: anger, despair and hopelessness are spreading throughout the country.
This time around the trade union movement, which in the past has always been central to these movements for social change, will most likely be treated by the masses as an obstacle to their forward march. We do not have much time. Members of the unions must take control of these vitally important institutions or crapaud smoke we pipe!
There is a view which is currently promoted by elements who command time slots on the electronic media, which holds that the population is not entitled to benefit from the country's wealth. 
They choose to attack the people, at this time, when the country's main foreign exchange earner, which is oil and gas, has declined both in production levels and price, although we recently witnessed a favourable increase in prices.
What is prompting this attack on the people at this time? Well there are persons in the media who peddle the neo-liberal philosophy which is opposed to the welfare state and society and is using every avenue available to call on the citizens to be a party to the crime of its destruction. Unfortunately, they do not know that they are peddling the most extreme capitalist philosophy which is free enterprise system without rules.
In a system in which the job of the government is to tax the population and transfer the funds to the private sector, who will determine how those funds will be invested? This is a system which envisages the private sector paying no taxes and the working people free of the burden of trade union representation. In other words, they want the labour market free of trade unions that they describe as the "opportunistic elements in the labour market."
These elements genuinely believe that by their utterances they are promoting the interest of the country and the current party in power, which is crying all over the place saying that the country has no money and therefore it might have to cut certain benefits to the public and freeze wages and other social benefits.
These people are not aware that what they are advocating is privatization of the enterprises which were built with public funds. They are not aware that they are advocating for the transfer of public assets to the private sector. Many are calling for the dismantling of the social programmes claiming that there is no entitlement to these benefits. They argue that these benefits are enjoyed by those who receive them free of any cost to them and this freeness must stop.
But what they deemed to be free is not free. The population pays taxes and, in addition, are entitled to an equal share of the oil and gas wealth of the country. Therefore, it is not true to say that such benefits are free of cost to those who enjoy them. This attitude is symptomatic of what appears to be a mood now being ventilated in certain business quarters, pointing in a direction that the time is now to bury the trade union movement.
Many are those who believe that the current PNM government is too slow to act in the interest of the private sector. The plain and simple truth is that they want the blood of the workers and their unions. But in order to achieve that objective they must first seek to win the population over to their side, by convincing its members that the trade unions are making unreasonable demands on the country's government and private sector, for wage and salary increases, which the country can ill afford.
This is where the elements in the electronic media come into play. Their job is to mobilise the population against the workers who are members of all the various communities, who have benefitted historically from the struggles of the trade unions and their members. 
The quality of life and the standard of living of many of our citizens can be traced back to benefits which the trade union movement was able to win for its members and by extension the society as a whole.

Therefore, the leaders of the local conglomerates and the one percent must also admit that they too have benefitted from the improvement in the quality of life of the working people, because as soon as the workers receive the new salary increases the store owners collect a large slice in the form of higher purchase payments on goods which they have already received or on new purchases. 
But these people are not prepared to live and share the wealth of the country with the working people. As far as they are concerned working people are not entitled to any rights, benefits and privileges in this society.

The unfortunate thing is that the leaders of the trade union movement are asleep and unaware of the fact that they are very vulnerable to attack from the ruling class notwithstanding all the robber talk from some leaders who always threatening to shut down the country. The central task facing the movement is to improve the quality of representation provided to the members through an aggressive education programme designed to produce a new crop of leaders with the capability to represent the members from the work place all the way up to the Industrial Court.

The true leaders of the movement will know that the struggles that spill out into the streets are those which had their origins in the branch. Therefore, it has always been the task of the leaders on the job to manage the struggle at that level. That is one of the reasons why you need to strengthen the union at the level of the branch. This is not the time for the leaders of unions to spend their time, energy and union funds to build electoral parties, whether led by David Abdulah or Watson Duke, which do not see their interests and that of the workers as one and the same.

The union members must ditch the mocking pretenders whose intentions are to ride on their backs in order to get into political office. The workers are entitled to a higher quality of leadership. They must also get rid of some of the current band of imposters who have no interest in building a strong movement, because their interest lies elsewhere. It lies in their desire to emulate the capitalists whom they look up to for guidance as they make use of union funds and property to establish businesses in league with the one percent.

Such leaders also believe that union members have no entitlement to information about the financial affairs of the respective unions. As a result these leaders could not care whether the enemies of the workers are plotting and planning to lick up the movement, because these leaders are ensuring that if and when that happens they would have already secured themselves financially by looting the resources of their respective unions. They believe that they are more entitled to benefits from the resources of the unions than their members.

The current situation in the movement has its history in the cultivation of an atmosphere of mistrust between the pro-working class and anti-working class leaders from as far back as the 1960s. However, a new element has been added to this mix. These are so-called leaders purporting to be progressive but who have been suspected of being agents of external forces acting from the left with the main objective of keeping the movement divided, by purporting to be acting in the best interest of the movement when in fact what they are doing is placing obstacles in the part of the movement at every turn to ensure that the disunity continues.
Let us be clear here. Bledman, Armstrong, Callender and Thompson, our 4x100m men's relay team are the victims here, not Usain Bolt. They are the one who got robbed that day in Beijing 2008 Olympics. 
The current narrative of Usain Bolt losing a medal at the Olympics is false and leans the wrong way. One cannot lose what was not one's rightfully from the beginning. It is almost as if we are being asked to apologise for proving Bolt is not invincible. 
Justin Gatlin won according to the rules at the last World Games, Bolt's farewell meet? That there was not a fairy tale ending to those games for Bolt is not Gatlin's fault.
Who's to blame? Bolt's team mate Nesta Carter who broke the golden rule, "thou shalt not get caught''. His infamy in Jamaica is now assured alongside Buju Banton, but that is not our concern. Our team has been robbed of the supreme moment of an athlete's career, mounting an Olympic podium as gold medallists, hearing the national anthem. Nothing compares to it in an athlete's life. Not to mention the accolades and economic benefits that flow from the achievement. An Olympic athlete appearing at a Diamond League meet commands top dollar.
Please note that the Court of Arbitration, the Privy Council of sport litigation, was emphatic in its declaration. To wit: ''There was a finding of an ADVR based on the presence of a prohibited substance in the Athlete's sample. The court further rules that.'' all other or further motions or prayers for relief are dismissed.'' Carter was asked to bear the costs of his failed appeal. The Court in summary has returned a unanimous verdict of guilty as charged.
This makes Richard Thompson our most successful Olympic athlete with gold and 2 silvers. It gives him the strongest opening by an Olympic athlete: gold and silver in his first such outing! What about the house and financial rewards that are traditionally due to such achievers? One can only wait and see.
We must also note that the denial would have hampered their achievements in subsequent years. An Olympic champion, like any champion, develops and carries swagger and a stronger sense of self which enhances further performance. Not to mention the esteem and respect paid by fellow competitors and by fellow citizens off the track. The gold on an Olympic medal never tarnishes. To quote one of our other 2 Olympic champions in a conversation with this writer: "You do not know the power of an Olympic gold medal."
It is a feel good moment when our sporting body is not in decline but in rot. We got creamed in Carifta Games, wrote a tawdry narrative leading up to and after the Commonwealth Games and the chair of the football federation is about to do a Basdeo Panday. Remember Bas was ruled too ill to serve prison time but subsequently flew out to the 2002 World cup tournament. David John Williams has absented himself from General Council meetings on medical grounds but is reported preparing to fly out to Russia. So it is not only Archie '' buckin' dem up'' at the moment. Did someone mention cricket?
This should also spark a renewed interest in track and field. I worked at last 
Hampton Games and it is encouraging to see the turnout of athletes and parents.Track and field, because it is overwhelmingly about individual participation, allows for mass entry, unlike the team sports like football, cricket or basketball. It is amazing to see how many youngsters from 7-11 take part and have mastered the basics, performing with correct technique; reminding that in this era the elite athlete is often just about 18-20 years old.
Justice has been served. The rules of engagement have corrected a historical wrong...somewhat.
Callender, Armstrong, Thompson, Bledman now take their place in Olympic history.
A caller to one of the Radio programmes aired on Sunday 29, April 2018 on I 95.5 FM sought to explain the difference between reacting and responding. In fact there is a difference. As we go about our daily lives, we usually respond or react to problems, opportunities and threats, depending on how we perceive the likelihood of them having a negative or positive effect, on our individual or collective interests.
However our behaviour in that regard is always influenced by cultural conditioning. For example, in countries where the population has had a long experience with civil wars and hegemonic wars, or where there is a long history of hegemonic domination, the ways the members of the population respond to the opportunities and threats are dependent on how their individual or collective interests are affected.
In other words, it is well known and accepted, that behaviours can be conditioned. It happens to us every day.
The use of advertisement to influence our decisions about a particular product, or to cause us to choose one political party over another, or to influence us to take sides in international disputes, are some of the ways in which we are influenced and controlled through the various means of communication.
Dependent on the issues confronting us at the time, we may draw down on our particular cultural grounding, which may determine how we react emotionally, or can determine how we respond, after giving due consideration to the particulars, as to whether the situation required an immediate or well thought out response.
This is true about individuals as well as political parties, in and out of government and also about the leaders of countries who perceive the national interest of their countries to include, their right to dictate to others what their rights and national interests are limited to.
In such circumstances, a reaction or a measured response may come from the individual or country to whom the assertion is made and whose sovereign rights are infringed or, are about to be infringed. There are some concrete examples to which we can point, both on the national and international political stage.
Take the case of the children of the Attorney General, allegedly being in possession of high powered guns, practicing to shoot on a military base under the jurisdiction of the Trinidad and Tobago Defence Force. Then there is the issue of the questionable relationship, allegedly occurring, between the Chief Justice and a convicted fraudster. Another example is the allegations made against the Minister of National Security that he committed fraud in his dealings with an old friend. All of these were presented to us through the print and electronic media.
In each case, we might have reacted with different levels of emotion or might have responded with a level of calm and inquisitiveness, depending on which side of the political divide we stand, or depending on how we rate the medium through which the message is transmitted to us, and how we rate the messenger.
In societies such as ours, where historically, we relied on the transmission of information via "word of mouth" or the "grape vine" so to speak, emotion usually trumps rational thinking at times. That is why racism or the perception of racism seems to colour our political preferences.
And as a result, those who understand the art of propaganda usually attack us from two levels. One which is referred to as "the ground
 say," or "from the horse's mouth" and the other through the print and electronic media. When it comes to the international political situation, the international media houses, such as Reuters CNN, MSNBC, MSDN, and the BBC, are usually peddling the same narrative on major international issues, such as on the war in Syria or on the situation in the Korean peninsula, involving North and South Korea and the United States of America. Our media houses, whenever they report international news, they never ever deviate from the international narrative.
Therefore, what passes for a report on the issues of international importance which may impact our national interest are usually void of any analysis or the expression of an opinion one way of the other which can demonstrate that we as a people are capable of giving voice to views which contradict those of the external messenger.
Some might say that "a still tongue keeps a wise head". But there are those who will also say, that "to sin in silence when they should speak makes cowards of men". Our problem is that we choose to take our cue from the behaviour or instruction from external sources and not from our independent analysis of the given situation.
Although it surprised me to hear the Prime Minister Dr Keith Rowley expressing what appeared to be an independent opinion in response to issues impinging on relations between this country and Venezuela. These were in relation to the deportation of eighty two so-called asylum seekers and an alleged conspiracy to recruit this country into a plan to overthrow the legitimate government of Venezuela.
It is my view, that we must recognise that there is an international principle involved in these two issues and the Prime Minister must be supported on those issues.
The principle is about non-interference in the internal affairs of sovereign states. What is not bring told to the public, is that there are individuals who are well positioned; in the media; in political parties; in and out of government; in the University and in religious organisations, whose job it to whip up hysteria in this country about alleged atrocities that the Maduro government committed. What we are beginning to see is the ugly hand of the CIA at work. If you notice very closely, you will recognise, a certain religious organisation has taken up centre stage in what could turn out to be a massive mobilisation of religious organisations in protest against the decision of the government and to demand that this country relax its immigration laws to accommodate an influx of Venezuelans.
If they succeed then they are going to call on the government to participate in plans to invade that country. Is it by accident that the Catholic Church has joined in the attack on the Prime Minister? Not at all! The die is already cast. America is about to test the mettle of Dr Keith Rowley. Is he really the Rottweiler that he was made out to be by former Prime Minister, Patrick Manning?
In any case progressive people must take a stand against any plans to invade Venezuela. Let me make it clear, this is not a call to support the PNM. It is a call to defend the principle of non-intervention in the internal affairs of our neighbour. This is not a time to react with emotion. This is a time when we must be deliberate and measured in our response. We must demonstrate that we know the difference between reacting and responding; that we know how to react and when to respond.
Introduction: Part 3 of the Black Inclusion series was screened on international media on Saturday 19th May, one month ahead of Labour Day. There has been an immediate fall out with Prince Phillip stepping down from Royal duties, whence he has made a career of racist commentary which the BBC likes to call ''jokes'.
Clearly with this chicken coming home to roost in Buckingham Palace, Phil, who was not
the man in Elizabeth's bedroom on that famous night
, has had it. This is a man who asked an African woman in Kenya who was presenting him with a gift, if she was a real woman. He warned British workers in China to '' not stay too long lest their eyes became slitty.''
One wonders what he would have said to Caster Semenya or Michelle Ahye. Phil's stiff upper British lip, which is probably the only place where any stiffness resides yet, is about to wilt.
Part one was the movie Black Panther which was supposed to reflect the race coming of age and assuming full nation status thanks to a meteor crashing in an African netherland and restoring our psyche, national pride and fighting ability. And a CIA agent who suddenly became a white liberal ready to fight and die for 'our' cause in the Motherland. The movie "Blood Diamond' was in fact a musical.
Forget Fanon, Malcolm, Marcus Garvey, Harriet Tubman and Claudia Jones or Winnie Mandela. Produce our own gaggles of Black nuts who wear their underwear on the outside, have super powers thanks to accidents in the lab and who will burst into muscular human rocks to fight crime. Now I keep asking since we have cell phones and no longer use phone booths, where does Superman change? Is he still working at the Guardian?
So after the slew of merchandising aimed at the new Black market like platform shoes and basketball clothing, what comes next: Black Panther jerseys and lunch kits along with Black Panther chest muscles? Do not laugh. Hulk muscles used to be sold in Trinidad and Tobago.
Then came the Avengers where the members join forces to fight the evils of terror; much like those nations who join the UN and then vote with their aid donors or foreign investors. And vote down leeway on loans to Dominica post a most destructive hurricane. "Yes Minister it's all the Public servants fault."
The grand finale according to one commentator was going to reverse colonialism. Damn, all these years of sacrifice, struggle and toil when according to this commentator, all we had to do was strip for the royalty of England. But the show went on. The script was fairly straight forward. Royal explorer lands on the shores of the American colonies, dodges school and church shootings, braves the wilds of Los Angeles and wins the heart of the Duchess of Compton, whom he brings straight out to his palace back home to be his bride, all the time wearing his swastika on his arm. Not that she will ever become Queen Meghan the First. The way the line of succession is arranged it is extremely unlikely
Oprah was there wearing a dress probably borrowed from Tyler Perry since he/Medea was not invited. Of course the tired old "Negro preacher" was there invoking the spirit of Dr. King which today would have been speaking about Palestine and Syria and the ongoing school massacres. But Reverend Chicken Wing was not sent there for that.
There were notable other firsts: the first black cello player to win a major British musical award, the first Black Tennis grand slam tennis superstar. That's us y'all! Music and sports! No one thought of inviting Neil De Grasse Tyson, leading astrophysicist. Maybe because he would not wear one of Tyler Perry's creations!
Who from the Windrush generation was featured? There was no steelband or calypso featured as far I can tell, so they got left out or non-white page boys or page girls. So there we have it folks. Running repeatedly on a monitor or television screen near you...part 3 of the Trilogy.