News & Comment
The Union frequently comments on events or receives news of general interest and these are documented on this page.
Subscribe to posts
Raf Robertson
left us abruptly and unexpectedly one year ago. One conversation that has stayed with me is
his take on the positioning of our creative industries as a new growth pole for our economic development.
He used to lament that in a world already transitioning from oil and gas to 'clean energy solutions' we are still holding on for dear life to what is fast becoming an obsolete and redundant fossil fuel industry.
At the same time in the steelband, with our music traditions, in fashion, in sport and in other visual and performing arts, we have so much that we could share with the world and make a handsome profit out of it too.
Without proper planning and structures we have given the world community - Brian Lara , Penny Commissiong, Peter Minshall, Boogsie Sharpe, Vidia Naipaul, Hasely Crawford, Keshorn Walcott, Wendy Fitzwilliam, Dwight Yorke, Sparrow and Kitchener,
George Padmore
,
Kwame Ture,
Tony Williams, Elie Manette and Bertie Marshall; just to name a few of our sons and daughters who have captivated a global audience. Just imagine what we will be able to accomplish with proper planning and functional structures?
No one is saying that we should abandon our energy industry which is still earning invaluable foreign exchange and subsidising so many areas of our daily existence. But just as West Indies cricket floundered because of its neglect to prepare for the era after
Sobers
, Richards and Lloyd, so too will we flounder and pay a price if we neglect to plan for the post oil and gas era.
Raf used to point out that the contribution of the creative industries to world GDP has been growing exponentially and is fast supplanting the more traditional manufacturing and extractive industries as a major source of global employment and income generation.
While our traditional historical and trading ties encourage us to look to the developed metropolitan centres to our north, we also have a lucrative opportunity to explore trading and employment options, south of the equator, in South America and also in Central America and in Cuba which is poised to take off economically with the opening up of its trade with the west.
Again, we know that we have inherited the system of a five-year Westminster political syndrome but we have to 'walk and chew gum at the same time' - that is to say we have to elevate the conversation away from exclusively day-to-day expediency and also take a longer view of our path forward. And let us not sell ourselves short by characterising ourselves as selfish, greedy and fickle.
Raf Robertson was not an aberration, Bunji, Machel Montano and David Rudder are not aberrations, Anya Ayoung Chee is not an aberration; neither are Joevin Jones, Kevin Molino, Ato Boldon or Liam Teague figments of our imagination. They are real people who are the personification and representation of dreams that can be transformed into realities.
So many examples - so many shining lights to inspire and illuminate our pathway and remind us about what can be.
Learie Constantine
did it,
Beryl McBurnie
did it, CLR James did it and Khalifa St. Fort and
Keisha Codrington
are doing it now; so too are countless numbers of unheralded citizens quietly making a difference in their respective communities. Which small nation state has given the world Dwayne Bravo, Sunil Narine and Kieron Pollard...??? Just fill in the blank.
Could it be that while we are seeking to revitalise old remedies in dated medicine bottles, we are not seeing possibilities of new approaches and new solutions. Surely INDEPENDENCE cannot be about the IMF or mobilising foreign capital to buttress old ideas and outdated solutions.
Surely INDEPENDENCE has to be about searching, within our inner essence, inside of the depths of our being, to discover what gifts our small twin island state can share with the world. Surely INDEPENDENCE will not allow a nation pregnant with so much talent and promise to define itself as a circular subculture of violence and dark inevitability.
And surely it is in times like these that we need tap into the optimism, foresight and selflessness of patriots like our dearly departed brother to strengthen and nourish our resolve going forward. Let's change the conversation away from 'what we are not doing' to 'what we can do'. Let's BALANCE THE PICTURE by sharing our success stories. Let's keep that Raf Robertson spirit going!
It is my understanding that the Sara P captained by a new guy hit a well in the Main field of Trinmar's Soldado offshore operations.
It has also been reported that at least one comrade, an operator, was injured. I sincerely hope that his injuries and those of any other persons involved are not life threatening. May he/she make a full recovery!
I also hope that there is no major damage to our structure and that no oil has been spilled.
It is just one of the risks we face on a daily basis; compounded by the fact that some of the experienced captains who dared stand up to their employers demanding the correct rates, have been left home.
It also gives credence to my warnings earlier. I had identified the fact that we were playing Russian roulette with the lives of our workers; that we were courting a major disaster as Petrotrin continues to maintain its hands off approach to the issues.
The fact is that IOCL workers remain on strike with no new offer being made by their employer, other than to say that he isn't making any money. The fact is that we now have vessels being crewed by people unfamiliar with the fields. These same people are being overworked, running for long hours without rest, working day in and day out without rest days - simply to put the strangle hold on the striking workers. We are indeed heading for a major disaster.
Now there has to be an investigation. Now we are one boat less in the fields as the Sara P will have to be parked up until the investigation is completed. Then it may be further kept out of the operations in order to conduct repairs.
Statistics will tell you that after a certain amount of lost time accidents and near misses, a fatality normally follows. According to those same statistics we are long overdue. Add to that the facts as stated above with respect to the inexperienced crews and overworked employees and our risk factor multiplies.
One hopes that the relevant authorities, OSH, Nav Safety and HSE conduct the relevant investigations in a thorough manner. One hopes that a proper Root Cause Failure Analysis is performed and that the results be made known to us the employees.
The news last Sunday night carried a response by a prison officer to a story by a 'law and order'' talk show host, which alleged that customers in a bank were given a scare. The fact of the matter, which the officer did not deny, is that an accused awaiting trial was taken to the bank to conduct personal business. Without being handcuffed. Not being 'civilly dead' a term used, or used to be used to describe convicted persons maintains certain constitutional rights. And as the officer explained there is a process of vetting.
Why has this resonated with me? I hope said host and his sidekick do not visit upcoming track and field meets, basketball games, cross country race or cultural events in the near future. If they do they will see 'lads' from the Youth Training Centre at all these events and God knows we may end up with a lock down at the Hasely Crawford Stadium or Maloney Indoor facility. Do we not see the calypsonians from the Carrera prison at Carnival time? Are they supposed to sing in handcuffs?
Through a programme I have worked on these young men have in the last 8 years visited/participated in Pan Am Jr. Championships, Secondary Schools basketball, rugby tournaments, Caroni Cross country championships, all the N.A.A A's events. They walk around, interact, go and warm up by themselves, go to the call rooms, argue with their coaches - like any other athlete. Not one has ever attempted to run away or been involved in fracas.
Besides I have no idea what 95% of them are in there for and that is not false piety. If you start with that outlook, that somehow as learners they are different, your programme is doomed and they will pick it up. Also, what can a visitor or tutor do about the judicial process? So why bring it up? Why 95%? Some may, as time passes and a level of comfort builds, volunteer information.
What the view expressed by the talk show host reflects is the 'right -wing' approach that says we must 'lock up dey ar...and throw away de key'' And upon eventual release what have we created? Those who imagine that these young men and women at the corresponding facility are 'wotless', criminal by birth and stupid' are seriously mistaken.
There is a book produced by Debbie Jacobs, "Wishing for Wings'' in which young men talk about their life experiences before and in prison. It is as interesting as anything written by Eldridge Cleaver or George Jackson though not as politically weighty. I had/have serious concerns about the reason and motive for producing the book but it is well worth a read.
These lads trim their own hair, lime in the multi-purpose hall, do photography and gamble their toiletries. You can come in the game with cheap soap, get angry and get locked down, go out on day release work programmes and attend day classes. They see through the limitations of the institutions and will call you one side and show the unprofessionalism of a particular guard.
My information is that with the coming of the Children's Authority legislation there is a shift to running the institution as a junior prison and not as a Youth Training Centre. This would, in the view of many, including many officers, be a retrograde step...
But let us not imagine that we could handcuff, shoot or beat into submission our social problems.
There's a
video
making the rounds on social media showing a confrontation on Charlotte St between two young men and some police officers. And as is now customary, many of the "mature" radio talk show hosts and many of their callers engage in the usual hang-wringing pontifications.
It's practically standard now; someone expresses shock at the level of indiscipline and morality; the way delinquent youths show almost no respect for the police or any form of authority, the influence of violent movies and music…and then, of course, someone calls for the police to take a firm hand and get tough on "crime" (and/or the need for "god" and more prayers).
It's easy to call for the police to get tough on "crime;" it'll be visible and yes, disruptive. I have no problem with that. But too many of those calls are embedded in a culturally embedded mindset of retribution. The getting tough approach in and of itself is understandable and is needed to a point. But study after study after study shows how it often intensifies the violence and the fatalism that drives much of that violence.
In other words, it often makes those living in depressed areas even more violent and radical.
Wayne Chance
always speaks about this fatalistic rage and what psychologists call redirected aggression. Neither does it do anything about the very long history of culturally valuated aggression and impunity – which is why I put "crime" in quotation marks; some groups and their acts of criminality have almost always been exempt – that has been at the core of how this society was structured since it was colonised.
And this is what gets me with the mental laziness of many of these pontificators, one of whom is a former minister of Foreign Affairs and a teacher before that. There is a dearth of the deep critical analyses that bring out anything I just listed. Recently
Professor Ramesh Deosaran
came out with yet another book that points to that long history of unequal distribution of wealth and justice (I prefer 'hypocritical double-standards,' but I'm no academic); anybody read it? Anybody compared it to
David V Trotman's
book on crime in Trinidad in the 19th century and made the connections? What about the findings of the
Moyne Commission
?
The culture of impunity that comes from belonging to a certain elite status seems to be something few wish to openly speak about. Perhaps it mashes too many corns. But this is what has been observed – and adopted – by working-class people in this society since the 19th century.
Read the book "Glory Dead" by
Arthur Calder-Marshall
, particularly the part where he said: "
Trinidad [is] an island in which the government can accuse a man of putting into circulation a vast quantity of notes that should have been destroyed and yet take no legal action against him: and which while he is awaiting trial for manslaughter, the Acting Solicitor-General can continue to prosecute his fellow citizens for sedition and murder."
He wrote this in 1939. Similar observations can be found going back to the late 1800s; even the infamous Captain Baker of the
Canboulay Riots
fame wasn't a captain at all but gave himself that rank. Nothing so far as I read came out of that. See how far back this attitude goes? You think the domestic workers and labourers didn't notice? Many of their descendants, some living in the same locations, are the ones who are causing all kinda problems today and for the exact same reasons.
So deal with the root causes and you might just see a difference that actually lasts. Address the culture that developed after herding people into barrack yards; they may have over time become "communities" but the culture is still there and so too the alienation and the ethic of materialistic consumption that became a valuated ideal. Deal with the ideas that equated non-white people, particularly dark-skinned men, as criminally violent by nature and how that thinking, internalised by people on both sides of the divide, became an us-versus-them mindset that pitted working people against law-enforcement.
Furthermore, stop seeing that approach as condoning or excusing delinquency, that's a very stupid way to think. And don't talk to the youths about personal responsibility if you're not going to talk even louder to those in the business sector about their personal responsibility and their societal responsibility.
They are the ones building structures without Town and Country approval and who have the EMA virtually in their pockets. If you have to condemn the dependency syndrome, cool...as long as in the same sentence you condemn the political elites who foster it to win votes. Dem bad boy and dem may not necessarily articulate all of that, but they are observant and how they behave just reflects the values you instilled.
In March the Arcelor Mittal Steel Company gave notice that it was closing its Trinidad and Tobago operation citing a slump in the international steel market and summarily throwing hundreds of workers and by extension their families on the bread line WITHOUT severance benefits. The National Workers Union and other media have covered the demonstrations and other forms of protest that the representative body, the Steel Workers Union of Trinidad and Tobago, (SWUTT) have carried out.
SWUTT however has organised its resistance in a new innovative and controversial
way. Moving beyond the traditional forms of protest and resistance the Union announced at a media conference on Monday 21st November that it has sought out and found partners who were willing to replace Arcelor Mittal and keep the steel industry in Trinidad and Tobago viable.
The union's spokespeople argue that, contrary to suggestions put out by the ruling class, the steel industry is not dying but remains viable. SWUTT has indicated that Arcelor Mittal, having rid itself of all liabilities to the workers, is trying to re-enter the local market through the backdoor by registering as a different entity and purchasing the plant at pepper corn rates.
SWUTT insists that it has conducted due diligence and found reliable, reputable investors willing to invest in a new company in partnership with the workers and the State. Proposals have been presented to the Prime Minister who in turn has called on his Minister of Labour to discuss the issue.
So far there has been no firm commitment from the government to sit down with the steel workers and progress the issue. The workers re-emphasise that a revival of the steel industry will be a much needed boost to a local economy which is grinding to a halt in the industrial sector. It would also relieve the unwarranted suffering of thousands of workers and their dependents, who have no options left given their ages and the state of the labour market.
The steel workers have taken the initiative in preparing a comprehensive document and are treading in a domain traditionally thought of as exclusive to 'financiers, entrepreneurs, economic experts and bankers''.
The steel workers have clearly seen what has happened to BWIA pensioners, ex-Caroni workers, former Telco workers and most recently OAS workers. Time will tell whether their response will add a new chapter to the ongoing labour narrative.
This power point document was presented at the media conference.
What is it going to take for the striking workers at IOCL to get their just dues? Is it even fathomable that one individual, one service provider, could hold the entire Trinmar Operations and by extension the country at ransom?
The official strike seems set to run the full ninety days as the more than two hundred and fifty workers remain on the picket lines. These numbers may have even increased as it is my understanding that the trucking contract between Trinmar and IOCL is no more.
Our production continues its slow decline. We are currently losing anywhere between 2500 and 3000 barrel
s per day. It is only due to the committed workforce of Trinmar that it has not fallen further. So much is being lost, being hampered. Productivity is at its lowest.
The limited vessels available for marine transportation cannot satisfy the requirement. Workers are being handpicked on mornings to board these vessels as the company (Petrotrin/Trinmar) continues its hands off approach to this matter.
A trip to our offshore locations which normally takes between 45 minutes to an hour, now takes closer to three hours, sometimes four. Then, when we arrive, transportation to conduct our field checks and services is not available Most of our productive time is therefore being lost in transit.
The rest of the workers unable to secure a place on these vessels have no choice but to stay at the base. Though they are getting paid, the frustration of twiddling their thumbs all day is not something they are used to. We are after all a productive group. Other contract workers also, who journey everyday from their various companies to provide services, most times have to head back home. So much productivity is being lost daily.
On my location alone, our latest purchase of a gas compressor aimed at increasing and maintaining our compression capacity lies rusting away. TOSL, the company given the contract to provide, set up and commission this unit, has been halted in its efforts - all due to a lack of marine transportation. The unit which was earmarked to come on stream mid-October sits as it has been for months - idle and useless.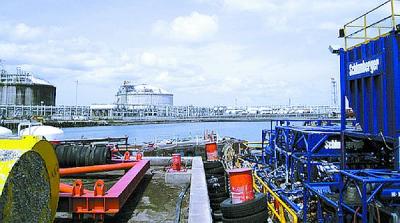 We are running skeleton crews. We are performing only our most basic of routines and one cannot help but wonder: for how much longer?
How much longer before a major piece of equipment fails? How much longer before we have a major disaster and, god forbid, lives are lost or oil ends up in the sea once again; negatively affecting not only our people, our production, but also our environment. How then would we respond? Which boats are we going to use to contain and clean up any such spill? I daresay, we are playing Russian Roulette on a daily basis.
The facts are there, the evidence is there. The documents show that these contractors were paid. The MOU stated clearly that the company (Petrotrin/Trinmar) would ensure that the contractors paid their employees their retroactive payments. Yet four years and many meetings and protests later, workers remain frustrated. Being told that their retroactive payments were used to purchase engines for boats, completely new boats; and in the case of one contractor, hound dogs and vans complete with cages for hunting.
The struggle continues even as our revenues continue to decline, as our valuable foreign exchange which we should be earning continues to decline; at a time of announced austerity measures and increased taxation which have driven up the cost of living of every citizen in this land. The net loss of earnings by the company, and by extension the government, must be accounted for. These monies which could be used to better run our country are being negatively affected simply because those in authority lack the testicular fortitude to stand up and enforce the law against these Employers.
Every citizen of this twin island state should take note, should be concerned. For this government has already indicated its intent to make up for their losses by putting the burden squarely on the backs of the citizenry; increasing taxes and duties while removing subsidies and cutting back on its social wage package. Healthcare and medicines are less and less available at our nation's hospitals.
All while Petrotrin hides below a rock. Contractors register their companies under new names in order to dodge their responsibility, even while some of the owners continue enjoying themselves destroying our wild life and partying down the islands. Interestingly enough, one of the main attendees to these down the islands fetes is rumoured to be the same person charged with the responsibility of fighting for the workers' rights.
I have often noted, even before the 50th anniversary of its founding an apparent lack of literature on the history and achievements of the People's National Movement - an organisation that has become an institution in Trinidad and Tobago.
Specifically, for example, a collection of speeches; a dossier of files that delineated its objectives or expounded on how a crisis such as 1970 was viewed and dealt with or how the front line leadership felt about having to go toe to toe with the working class nearly all of its life.
To make the point: I have read speeches and presentations by Professor George Sammy, George Weekes; I have done interviews with leaders such as Boodram Jattan and Joe Young. I have read and still read Maurice Bishop Speaks. The views of such people could be
read in the Caribbean Contact published by the Caribbean Conference of Churches, the Liberation newspaper done by the National Joint Action Committee or
Tim Hector's
Antigua Caribbean Liberation Movement's OUTLET.
A certain generation knew that at 8.00 p.m. we turned on the radio to hear Lionel Seukeran debate the P.N.M. in much the same way some tune in to the crime shows today. A few days ago I was reading, rather re-reading, in part again C.L.R. James's "Beyond A Boundary'', a seminal work which to many must read like Alice in a cricket wonderland given the collapse of cricket in the West Indies in the islands and within the regional structure.
What prompted this piece? I am reading on one of the dailies that there is or was a raging debate on how much money was spent on roti by the previous administration. Here is a national leader, in a time of worsening economic and social crisis weighing in on the cost of roti then. Of course the Opposition takes the moral high ground by alleging that the Prime Minister got it wrong since the roti bill was in fact one in a basket of goodies. Of course the discourse, as was inevitable among such intelligentsia, climbed new heights; veering off into discussions about who stays in whose house and how the transportation arrangements are handled.
Sometime I am accused of being sarcastic, but can you imagine growing up today and hearing your leaders engage in such 'profound discourse?' This probably explains why there is no collection of speeches, individually or collectively, reflecting the political path of the organisation.
Is there a catalogue of our presentations at the United Nations or at Caricom meetings? I know there are works in the various reference sections of the libraries but those are not easily or readily available for the general public. I remember the Mighty Joe Young scornfully rebuking the idea that P.N.M.had/could run a "Party School'' the way progressive organisations/movements did. What would they teach ideologically he would scoff? How to win elections?
This is all the more scary in a country where one cannot now tell if the police vehicle forcing you off the road is going to or fleeing from a crime scene of its own; where sick political minds engage in body counts using murder to score political points and national media carry a story about an infant dead and unburied for 18 months but cannot verify it. Where our national football team gets tired after 60 minutes in a football World Cup qualifier and we seek to blame the coach.
Yet we 'studyin' Donald Trump who is 'handling his stories' much better than we are. No wonder deportees are scared to be 'returned home'
Maybe I see it like this because I am of a different generation and ideological construct. Maybe because I have not gone to the meetings to understand this is what local government reform is about. Maybe it is because there is a candidate from the Movement for Social Justice who when asked how she would respond if central government starved the corporations of funding replied that she was used to doing fund raisers. So we know now how her Party would re-pave Chootoo Trace.
I will be calm now and understand this is how the PNM will ''go forward'' as C.L.R. James advised in his time with them and that history will record, 25 years from now, leading politicians furiously and openly debated the price of roti, then and now, on our way to 21st century status.
Hey Miss Lady...gimme 2 chicken and a goat…slight pepper...Ah supporting P.N.M!!
"Tell your mammy
Tell your pa
Gonna send you back to Arkansas"
Ray Charles/ What'd I say'
Seems that some are upset about The Donald's proposed wall between Mexico and Texas, which is really a wall inside a house. Remember the Alamo! The Donald is an honest man, elected in accordance with the rules and laws of the country. He was not an independent like Ralph Nader or Ross Perot. The President in waiting, in accordance with established norms, was chosen as a Republican candidate. So the electors knew who and what he is /was.
This is not the Rio Olympics where the USA 4x100m women's team grabbed the IAAF by its gnarled throat and got a re-run of the event, eventually going on to win the gold, by any means necessary. Kind of hard to re-run a U.S. presidential election regardless of whom Hilary blames! MSJ take note if you lose in the upcoming local government elections.
Folks, these are America's foreign chickens coming home to roost. Yes 'foreign chickens'. Whenever, wherever the U.S government and its European allies have seen a people exercise the right to choose a leader who is not pro American, who is an ardent nationalist or anti-capitalist, the same process occurring in California and New York is initiated except the methods are waaaay far direct and brutal.
Please note that there are no demonstrations reported against the occupation of Palestinian land by these folk who now 'fear fascism'. Fascism abroad is one thing; fascism at home quite another!
Let's see: Guyana with
Cheddi Jagan in 1953 and 1962-63
;
Jacobo Arbenz in Guatemala in1954;
Patrice Lumumba in the Congo 1961; Diem in Vietnam in 1963;
Juan Bosch in the Dominican Republic in 1963-65;
Kwame Nkrumah 1966; Allende in 1973; Algeria in 2003 against an Islamic government; Hamas duly elected in Palestine since 2007;
Haiti to remove Aristide
;
Venezuela against Chavez
; Libya and
Honduras
…right Hillary?
Seems that these demonstrators could work for the Secretary of State anywhere in the world. Is this not the same type of disregard for 'law and order' when your puppet candidate does not win. Imagine various sections of the media are suggesting impeachment.
Where will this end? The demonstrations are to let off steam at best. One cannot reverse the outcome of an open election conducted in accordance with 'best American practice' or can one? Regardless of whom Hillary blames America is not about to have a political Queendom like Germany or England.
One can empathise with her, believing she was on the cusp of history, about to take "feminist" politics to its highest expression. But here comes The Donald, the ultimate political pimp, to send her back to the streets. Even his 'do-rag' and 'conk' are phony. Tsk. Tsk, as the British would say, Hilary has truly 'lost her rag'.
The Donald will soon be consumed managing an empire in free fall at home and abroad. There are conflicts in Afghanistan, Iraq, Libya, Syria, Venezuela to deal with, NATO and the Europeans, China, Russia, North Korea; none of which The Donald created but he is the new fascist on the block and he has to deal or be dealt with. The Nobel Peace prize winner holds the record for drone strikes, let us recall. It reminds one of a comment made about Adolf Schicklgruber/Hitler who, let us not forget, was duly elected to office.
Hitler's biggest error they say was not political or military but rather cultural. He brought long established practices of enslavement, genocide, annexation and racism home to Europe. Someone failed to point out that his enemies had long institutionalised these norms of Western civilisation, in Africa, in India, in the Caribbean. In essence President soon to be The Donald, is not supposed to say these things, at least not for political opponents to hear.
At least he will stay out of Arkansas. That's where Billary come from: 'Tell your mama…tell your pa."
"Class warfare!"
I heard the phrase on mainstream American election coverage. I am not kidding.
Karl Marx
starring on Yankee television election night! But hold on…. something is wrong with this picture...err…Donald Trump…President-Elect...Isn't he supposed to be some kind of fascist? 
So it's class warfare from the "right"? Now please don't misunderstand me and let's not have any illusions. "War criminal" is a line item in the job description of the U.S. Presidency. And it matters little whether the holder or would-be holder has melanin, a vagina or a billion dollars.
But it does appear that we are at a critical point.
The "ultra-right" parties have been doing well in Europe and then earlier this year there was
Brexit
. What's next
Le Pen in France
? She has already long conveyed her congratulations to the new President-Elect. This fascism business is here to stay and we in the left have to deal with it.
It appears that I am not being premature when I say that future commentators will declare that 2016 is the year that the 21st century begins in earnest. Just as World War I in the 20th signalled the final collapse of the old Feudal Order and World War II laid the basis for the present Global Order of U.S. imperialism.
We seem to have here a tectonic shift. And we are back to Marx because he predicted it: "Class warfare": the uprising of the working class against the global capitalist order. And it's hitting us from the right.
Of course this is all wrapped up in fascism, racism, xenophobia and violence but fascism, racism, xenophobia and violence characterise U.S. foreign policy on a good day (then things really turn nasty). So what else is new?
Let's give the poor white "red neck" class a little credit. They have been deceived by Trump but they were not fooled by the formal establishment status quo and its corporate liberal media: CNN,MSNBC and friends. And while some African Americans joyfully support the Democrats because black slaves matter, and others (to be fair) less joyfully, it appears that a great deal of African Americans or more accurately Africans in America did not fall for the party politics crap and did not vote.
Democrat and Republican are two sides of a single vicious capitalist imperialist system and there is no real difference between them except perhaps the Republicans are a little more honest. 
So the black and white working class were not taken in by the elitist corporate liberal media-saturating hype generated by the system. This indeed gives us on the left hope that when judgement day comes – and my friends it is coming – the masses will know what to do or at the very least they will know what not to do.

But what is disturbing is that it is the right and not the left that seems to be better positioned in the post-2016 world to direct what follows. Of course this calls on the progressive forces to do the obvious and organize! organize! organize! But it also requires that we not only confront this overt fascism but also engage it.

Yes, you heard me (if you pardon the expression) right. Because the right does have some things to say concerning taking seriously issues of community and it has proven to be most effective at tapping into such visceral communal concerns.

Now of course history has a great deal to teach us about what happens when such communal discourses of "blood and myth" go disastrously wrong in an inherently violent fascist capitalist system. We may cite Europe, Africa, India and even our own part of the world. But let's not dismiss "blood and myth" so quickly. Or to use more sensitive language we need to take very seriously insights concerning community, culture and spirituality.

There is in reality nothing necessarily fascist about this as in the Caribbean many of our own organic artists, intellectuals and activists have here been leading the way. (As a curious historical aside the great Marcus Garvey had no problem sitting and talking with this "white section".)

So there are interesting times ahead as the 21st century gears up into full throttle. The left needs to prepare itself to participate in the struggles ahead as the outcome is by no means pre-determined. And in this the year of President Trump I say – Let the games begin!
Got to stay 'way from them ism
All dem ism is just schism 
I think these lines from Stalin's song "Ism/Schisms" are most definitely more relevant today than it was before. Oh yeah, and to those of you who know me personally and we haven't yet met up, take it here one time: I f***ing told you so! 
All who find I ha' too much chip on mih shoulder and anti-American, hold dis in yuh pweffen and tun left. Yes, that's right, Trump won. Poetic justice eh? The US has a long history of installing corrupt, fascistic demagogues all over Africa, the Americas and Asia; now they got one! 
Not that Hillary winning would have been any better; I said it over and over: no matter which one of the major frontrunners won, democracy lost. It's been lost a very long time actually; the hollowness of it has been examined for years by people like the late Professor Norman Girvan and Prof Glen Sankatsingh, joining with voices within the US and Europe like Gore Vidal, Chris Hedges, Tariq Ali and John Pilger. It's only now dawned on some people - well, except in our media.
And this is what really is getting to me, the drone-like nature of local media in analysing and discussing issues like this from a Caribbean perspective. You know that region right…the one that was colonised by Europe and treated like a football/chewtoy by the US. Have we forgotten that the Caribbean was treated like a pawn during the Cold War and an outlet for its sexual schizophrenia even before that? 
Maybe I was just listening to the wrong stations, but what little I've heard just seemed to parrot the superficial "analyses" of the major US media houses, most of which had almost no credibility outside of their coverage of the Viet Nam War…perhaps. They sure as shit lost that credibility when they were cheerleaders for the invasion of Iraq and Afghanistan by George W. Bush. 
The discussions on i95.5, Power 102, 91.1 and Boom Champions that I've heard on Trump versus Clinton sounded a lot like the propaganda during World Wars I and II when Caribbean people were told to fight and defend King and Country, preserve the democracy they themselves had no part in other than at the bottom. Same thing during the Cold War!
The reality for us here is that regardless of who won the presidency, the foreign trade and political decisions would be stemming from a cultural mindset that views us as mere objects and trailers (to borrow the term Prof Sankatsingh used in his brilliant essay on Trailer societies). And we should be looking down the road seeking to develop alternatives and/or networks with other countries and grassroots organisations that are in similar positions. 
What we now see playing out in the US should have been expected. While Trump's election represents the disgust of many working people and a revolt against the elite establishment that looks down on those outside the proverbial 1%, it doesn't change the fact that, like Brexit, that outrage played into the hands of ideologies built around bigotry an
d misogyny. 
On one side there was a racist, corrupt warmonger – and that's not even Trump I'm talking about! Trump/Hillary, same difference; six of one, half-a-dozen of the other; Left Wing, Right Wing, same cobo, one just uses nicer words because she's a career politician. He wants to build a (physical?) wall; she was building a virtual one. 
He makes misogynist statements, she implemented misogynist policies. In fact this supposed feminist has implemented policies that killed or destroyed the lives of thousands of women across the globe and as far as I am concerned her election would have represented no kind of advance for women or feminism. Her track record in terms of foreign policy is like a neon sign as to what to look forward to if she did get de wuk – Whitewater scandal, she backed the invasion of Afghanistan and Iraq, supported the TPP, was complicit in a coup in Honduras, destabilised Libya, Syria, rattled sabres at Russia (and don't even get me started on Haiti. 
And as for Trump...wow!!! Really?! F**k it, grab em by the pussy Don. 
But how many serious discussions were there in Trinbago about what the respective worldviews of these two might mean for us given the history and current events? Where are the analyses and conversations that raised awareness among Trinis who are currently obsessed with who tief out de Treasury and who have stink mouth? 
Who has been explaining what Hillary or Trump in the Oval Office may mean for the lifestyles some Trinis have gotten accustomed to? What are the possible impacts based on the economic "agreements" that have been signed? What if Trump really backs away, as he said he would, from agreements concerning climate change? And what if Hillary had gotten elected and start to run pipeline like she mad all over the US (which is reportedly resuming)? 
Trump and Hillary are products of old hubristic ideas of US exceptionalism, racist binary thinking of the world, plain and simple. It began with notions of a City on a Hill and snowballed with the rise of the Dulles brothers in the 1950s and their own very stern Presbyterian upbringing (see the lectures and interviews of Stephen Kinzer on YouTube or get his book "The Brothers"). 
The point is that where was the contingency planning on our part? Or was it the usual attitude of 'f**k it, we's a tiny speck and cyar influence nutten (thank god it didn't have no Trini advising Ho Chi Minh and the Vietcong back then eh?) The point is that other countries are seeing what may possibly lie ahead but unlike many of us who are always so quick to just lie down and take whatever as long as we get to go Meeahmee every now and then; they are looking to do something, anything to forestall it. 
Many of them understand very well US interests have always been about their interests and to hell with you after that. Trump and Clinton represent a political/economic system that was shaped by deeply racist views of the world and militaristic attitudes even towards Europe. But they're not simply accepting it. We shouldn't either. 
The Caribbean in general, and Trinidad in particular, has since World War II been understood as having immense strategic importance, perhaps it's time we did too and find ways to use that importance to our advantage for a change. Cause I think we got some interesting times ahead.